News
08/08/2002 12:51 PM
Article By:
This week in Baseball
8 August 2002


Y-D Red Sox Overpower Orleans
Wareham Pitching Keeps Cotuit at Bay

ORLEANS -- When it comes to Cape League baseball players, one would be hard struck to find a nicer, more personable young man than Y-D Red Sox righty relief man John Hudgins (Stanford).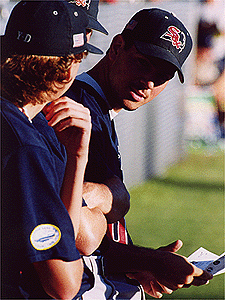 Y-D Red Sox flamethrower John Hudgins (Stanford) stymied the Orleans Cardinals in game one of the Eastern Division Playoffs, while Wareham held tight to stave off the host Cotuit Kettleers in the West.
Rainne Sullivan/CCBL 2002

Except, of course, when he toes the rubber and brings it.

Facing a phenomenally talented Orleans Cardinals club in game one of the Eastern Division playoffs on the Cards' home turf at Eldredge Park, and coming in for Y-D starter Matt Campbell (South Carolina) in the bottom of the fifth, Hudgins went the rest of the way without allowing a run. in 4.1 innings of relief work, Hudgins struck out seven batters, walked none, gave up no hits and hit one batter.

Campbell, who allowed just one run on a David Coffey (Georgia) solo shot that put Orleans within reach at 3-1 in the bottom of the fifth, allowed just three hits in all. Hudgins got the win, while Campbell received no decision. The final score was Y-D 7, Orleans 1.

Orleans put 2002 Cape Cod Baseball League Outstanding Pitcher Award recipient Brian Rogers (Georgia Southern) on the hill, and for all intents and purposes Rogers (4-0, 0.40 regular season) had immense odds in his favor. But the Y-D bats have been hot and they stayed hot versus the all-star righty. All totaled, Y-D collected 10 hits and five earned runs off the Orleans ace in 5.1 innings of work. Stanford's Chris Carter and John Slone (Miami-Ohio) both homered for Y-D, while Wake Forest all-star outfielder Adam Bourassa collected three hits on the night.

There was a grim silence when Coffey was plunked in the chest with a pitch in the late innings, but Coffey got up like the true champion he is and proceeded to steal second base.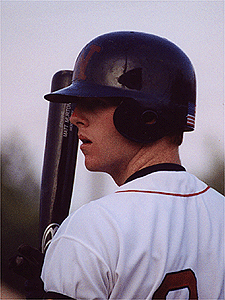 Can Matt Murton (Georgia Tech) lead Wareham to its second straight run at the title?
Sean Walsh/CCBL 2002

The Cardinals head to Merrill "Red" Wilson Field at Dennis-Yarmouth High School (Exit 8, Station Avenue, South Yarmouth) to try and split the
series versus the host Y-D Red Sox at a 3 p.m., today, Friday, Aug. 9. A win by Y-D will place the Red Sox in the Championship Series for the first time since 1990. Y-D was crowned CCBL Champs in 1990 and 1989.

Orleans last visited the championship series in 1994.

The Wareham Gatemen, who struggled a bit in the early season but turned it on in the second half, put left-handed Jeremy Sowers (Vanderbilt) on the hill and Sowers did not fail to do the job. The leader this summer in innings pitched (65.1), Sowers stymied the Cotuit bats all afternoon, eventually giving way to closer Kyle Parcus (Texas A&M) who earned the save and struck out two in the bottom of the ninth.

Cotuit righty ace Marc LaMacchia (Florida State) was equally impressive and tough on the Wareham bats. LaMacchia, who went 3-0 with a 1.29 ERA this summer, retired the last 17 Wareham batters he faced. Brown's Matt Kutler hit a shallow pop fly along the foul line in left in the first inning to put Wareham up 1-0. Sowers never looked back and Cotuit simply could not plate the runs it needed. Georgia's Lee Mitchell played in his first game since before the all-star game (July 27) and played well defensively at first base while catcher Stephen Ghutzman (UNLV) made a great play at home to block the plate in the early innings.

Cotuit travels to Wareham's Clement S. Spillane Field tonight at 7 p.m. for game two of the Western Division playoffs. Should Wareham win, it will be a repeat trip to vie for the league title and Wareham field manager Cooper Farris' second time in as many years to earn a shot for the Arnold Mycock Championship Trophy.

The expression on Kettleer slugger Brian Snyder's face tells all after a 2-1 loss to Wareham at home.
Walsh/CCBL 2002

Orleans Cardinals field manager and CCBL Manager of the Year Carmen Carcone attends to David Coffey (Georgia) after Coffey was hit in the chest with a pitch.
Rainne Sullivan/CCBL 2002
-- Sean Walsh/CCBL 2002