News
08/12/2002 4:08 PM
Article By:
Kutler's Crushing Blow Downs Orleans for Wareham Title
Gatemen Sweep for Championship Repeat

WAREHAM -- Georgia Tech's Matt Murton stood in front of the visitors' dugout at Eldredge Park
in Orleans Sunday night and unwrapped a five cent piece of Bazooka. He unfolded the wax paper Bazooka Joe comic inside and read the pseudo-proverb printed at the bottom aloud: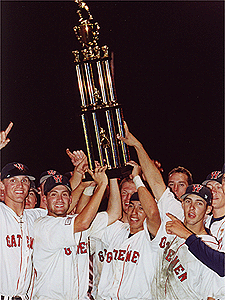 Wareham's (from left) Kevin Guyette, Matt Kutler, Iggy Suarez and Chris Durbin hoist the Arnold Mycock Championship Trophy after shocking the Orleans Cardinals, 3-2, to capture the 2002 Cape Cod Baseball League Championship.
Sean Walsh/CCBL 2002

"You don't get a hit if the bat stays on your shoulder."

In the case of teammate Matt Kutler (Brown), nothing could prove more proverbial. In a game whose purity depends on maintaining certain boyish qualities and an air of youthful electricity and karma, Kutler last night possessed the whole package.

Tied at 2-2 in the bottom of the ninth with two outs and two men on base, Kutler took the second pitch offered by Orleans Cardinals righty closer Whitley Benson (UNC) and hammered it off the left field wall to drive home Baylor's Dave Murphy. The home crowd at Clement S. Spillane Field went wild. The Wareham dugout emptied. Kutler soon found himself at the bottom of a two-ton pigpile behind the pitcher's mound. The Wareham Gatemen, for the second consecutive summer and first time in franchise history, repeated as Cape Cod Baseball League Champions.

It was an aggressive, well-played game that will not soon be forgotten.

Murton, playing with taped fingers after breaking one earlier this summer, led the ninth-inning rally after Tim Moss (Texas) had struck out and Matt Rogelstad (Arkansas State) flied out. With Murton on first base, Dave Murphy took a 3-2 Benson pitch and laced it to left-center to put two men aboard. Baylor's Josh Ford then hit a Major League pop fly with two strikes on him to Orleans' first baseman Mike Rapacioli (St. Bonaventure). With the entire crowd holding its collective breath, the ball somehow popped out of Rapacioli's mitt and Murton came across with the tying run. Murphy advanced from first to third and Ford beat Rapacioli to the bag. Kutler came up and fouled one off, then connected, launching a shot off the left-centerfield wall to win the game.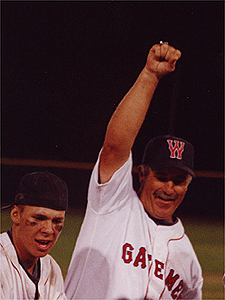 Wareham Gatemen field manager Cooper Farris pumps his fist in celebration of his second Cape League title in two years, as Matt Rogelstad (Arkansas State) joins in the postgame fun.
Sean Walsh/CCBL 2002

Collectively, Wareham had kept the proverbial bat off its shoulder.

In the bottom of the first, facing UNC-Greensboro southpaw Jason Metzger, Moss led things off with a single, followed by a Rogelstad double to right-centerfield. Baylor southpaw Trey Taylor kept Orleans at bay until the top of the third inning when Joey Wolfe (Louisiana/Monroe) collected an infield single, followed by a Dave Coffey (Georgia) double to put men on second and third with one out. Orleans catcher Ryan Hanigan (Rollins), an all-star and recipient of the 2002 Daniel J. Silva Sportsmanship Award and 2002 John Claffey New England Top Prospect Award, then hit a sac fly to right to score Wolfe to make it 1-1.

Taylor worked his way out of jams in the fourth and fifth innings, including an important pick-off of Coffey at first in the top of the fifth to quell a potential Orleans' rally. But with Metzger still throwing well, the game seemed to be shaping up to be another 1-1 deadlock throughout. But with Metzger covering the bag on a Kutler grounder wide of first, Kutler and Metzger collided, knocking the Orleans' righty out of the game and causing some momentary fireworks with the umpires as Orleans field manager Carmen Carcone argued the collision was intentional on Kutler's behalf. The argument was futile, though, and Orleans was forced to bring in righty Brett Smith (UC-Irvine) to close the inning out.

Inspired perhaps by the loss of Metzger, all-star first baseman Rapacioli stepped into the batter's box and belted a Taylor fastball deep and out of the ballpark in rightfield to make it 2-1, Cards. Buoyed by the lead and Rapacioli's show of power and the continued hot bats of Coffey, Steve Garrabrants (Arizona State), Hanigan and Tim Lemke (McNeese State), Orleans brought in UNLV southpaw Robbie Van in the bottom of the seventh after Murton led things off with an up-the-middle single. Van faced Murphy who grounded into a 6-3 double play by shortstop Matt Maniscalco (Mississippi State). Ford then grounded to first to end the inning. In the top of the eighth inning, Wareham brought in lefty closer Kyle Parcus (Texas A&M). Parcus fanned Lemke and Garrabrants to give Wareham hope, then Arizona State outfielder Rodney Allen stepped in and ripped a two-out single. Parcus got out of it with a Myron Leslie (Florida Southern) pop fly to right field. In the bottom of the eighth and with time running out on Wareham's hope to win the title at home, Kutler grounded out to lead things off. Baylor's Chris Durbin then walked and that's when the real fireworks began.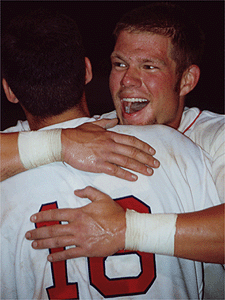 Baylor's Josh Ford gives 2002 SportTicker Star of Stars Playoffs MVP Matt Kutler a huge bear hug after Kutler's game-winning and title clinching hit.
Sean Walsh/CCBL 2002

Known for a crafty pick-off move, Van made Durbin stay tight to the bag then started toward home plate. As the pitcher's front foot committed to the plate, Durbin broke for second. With his eye on first, Van could not resist making the throw, but it was too late. The pitcher balked. Orleans field manager Carmen Carcone raced from the dugout to argue the call with home plate umpire Tony Gisondi. First base umpire Nick Zibelli waved his arms to call time out.

As Durbin headed back to first base, Carcone continued to argue with Gisondi and even appealed heatedly with Zibelli. As Carcone headed back to the dugout, more words were exchanged with Gisondi who had returned to his position behind home plate. Carcone then kicked some dirt at the home plate umpire, invoking Zibelli to eject the rookie Cape League manager of the year.

Once Carcone left the field, Orleans pitching coach Kelly Nicholson continued the balk debate and was quickly ejected as well. Nicholson stormed from the dugout and argued with Zibelli midway between home plate and first base and then left the ballpark. The emotions and excitement were rendered moot when Wareham catcher Mike Nickeas (Georgia Tech) and then got Iggy Suarez to pop out to left. In the top of the ninth, Parcus got out of a potential jam -- after Maniscalco singled and stole second base -- by striking out Doug Jackson (BYU) and then receiving a superb defensive effort from first baseman Ford who leapt to snare a high throw from Suarez and slapped the tag on the runner.

In the bottom of the ninth, things looked grim for Wareham as Moss and Rogelstad were retired by Benson for two outs. Murton stepped in and smoked a single to left, followed by a Murphy single and then the error at first by Rapacioli on Ford's pop fly. With Murton in to make it 2-2 and Spillane Field electrified, Kutler delivered. Perhaps the one thing missed in all the excitement was the fact that both catchers -- Hanigan and Nickeas -- played brilliantly behind the plate all evening. Again and again Hanigan was peppered by Wareham foul tips, but limping and in obvious pain, the Orleans backstop never gave in.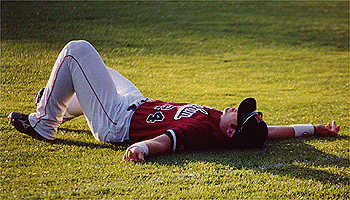 Wareham's Matt Murton (Georgia Tech) soaks in some good karma at Eldredge Park prior to game one of the 2002 Championship Series.
Sean Walsh/CCBL 2002