News
07/24/2004 11:29 AM
Article By:
24 July 2004
THIS WEEK IN THE CAPE LEAGUE
All-Star Game
24 July 2004, Eldredge Park, Orleans
Easley Blasts 17 to Capture Home Run Hitting Crown
ORLEANS – Before the Cape Cod Baseball League Home Run Hitting Contest, Austin Easley didn't say he'd win the top prize, but he did predict that he'd finish ahead of Matt LaPorta, his teammate from the University of Florida.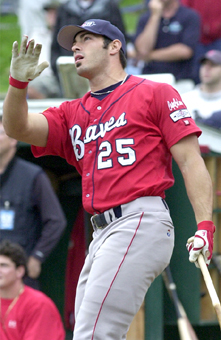 Austin Easley watches one of his 8 homeruns in the first round leave the park. Easley went to the second round and won the contest over Tyler Greene of Orleans
SportsPix 2004
In the end, Easley did both.
The Bourne Braves slugger finished ahead of LaPorta and four other competitors in the 17th annual exhibition presented by The Baseball Factory, blasting 17 long balls into the overcast skies above Eldredge Park in Orleans.
"He told me he was going to beat me," LaPorta said. "I just kind of laughed and said, 'Yeah, okay."
It's tough to blame LaPorta for his reaction, as Easley entered the contest as the clear underdog. He hit zero home runs for the Gators last spring, while LaPorta hit 14. Easley has one long ball to his credit in the Cape League this season, while LaPorta leads the league with nine.
The tables were turned before a crowd of 4,380 on Saturday afternoon. LaPorta, of the Yarmouth-Dennis Red Sox, walked away after ten outs without a home run. Easley dominated the first round with eight round-trippers and only got hotter.
"I thought I had a pretty good chance because there is a pretty short porch out in left, and the wind was blowing out for righthanders," Easley said. "I thought I'd have as good a chance as anybody."
As it turned out, Easley had as good a swing as anybody, too.
"It's all about getting in a groove, feeling comfortable in there," Easley said. "I really give a lot of credit to my (batting-practice) guy, Brendan Witherall. He was laying them in there for me, and it worked out well."
After one round, the player with no college home runs in 2004 instantly looked like the man to beat, as he pelted shot after shot over the 300-foot fence in left field.
A bit of competition, however, was not far off. After hitting four in the first round and winning a five-swing playoff to advance to the final, Orleans shortstop Tyler Greene put his own stamp on the contest.
With seven souvenirs already over the fence, Greene hit his eighth home run of the round into a playground well beyond the wall in left-center.
That shot left Greene confident and Easley worried.
"I thought an eight-spot was a good number," Greene said. "I thought it gave me a pretty good chance."
Greene had a leg up on the competition coming in, as he had taken batting practice at Eldredge Park all summer long.
"I think I had a little advantage playing at my home park," he said. "You know where the ball flies and where to hit in the park. I wasn't really nervous, but I was excited to be able to play in front of the home crowd."
Needing to better his previous performance, Easley knew what it would take to put up nine in the final and take home the hardware. The question was: Could he do it?
"I was kind of nervous, I'm not going to lie," he said. "I knew that I had to really get in a groove. I knew I was going to have to see the ball well and get some pitches that I could hit out of here. I just tried to be really patient."
That patience was colliding with the nervousness that comes with thousands of fans waiting for you to do one thing and one thing only. In the home run hitting contest, doubles down the line and hot shots up the middle go for naught. It's the long ball that the fans want to see.
"There's some pressure, definitely," he said. "When you're in the game, all you have to do is get a base hit. In the home run derby, you're expected to hit every ball out of the park."
Easley was able to elude the pressure, though. After recording an early out, he quickly picked up where he left off in round one, depositing a number of brand new baseballs over the wall and into the waiting gloves of spectators lining the outfield perimeter.
With that, Greene's confidence turned into doubt.
"He hit about three or four in a row, and I was just saying, 'Uh oh, I think he's got it,'" Greene said.
With three outs left to waste, Easley finished off the contest with another towering shot to left, his ninth of the round and seventeenth overall. That final swing put the name Austin Easley alongside previous champions Frank Thomas, Todd Greene and Todd Helton in Cape League lore forever.
"It's just awesome. I'm so excited to be here and I'm really honored to placed in the same category as those guys," he said. "Everyone here is supportive. I don't think these fans really care who wins, they just want to see a good show." -- By T.J. Lasita, CCBL Intern, [email protected]
John Garner, Jr.
CCBL Director of Public Relations & Broadcasting
(508) 790-0394 [email protected]