News
07/30/2004 11:48 AM
Article By:
30 July 2004
THIS WEEK IN THE CAPE LEAGUE
Milestone Day for Cape League Mangagers

Schiffner passes Red Wilson with 258th career win
CHATHAM – As much as Chatham coach John Schiffner tried to pass off Sunday's (25 July) victory against Yarmouth-Dennis as just another step on the road to the playoffs, he couldn't help but reveal the emotion that accompanied his ascent to third place in Cape Cod Baseball League history in wins.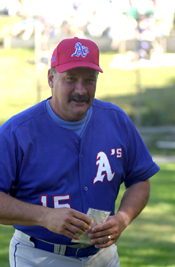 John Schiffner, Chatham A's
SportsPix 2004
It didn't hurt, either, that the historic win came on a tenth-inning sacrifice fly in one of the most exciting games of the season. The theatrics did exactly what the veteran skipper wanted – it removed the spotlight from the dugout and placed it directly on the young men in uniform.
In fact, the drama on the field obscured Schiffner's impending milestone so much that the coach himself forgot what he'd done until the public-address system chimed in with a reminder.
"The single win for us is more important than my 258, so I didn't think about it until they announced it," he said. "But it is very, very special. I love the Cape Cod League, and just to be a part of it is very, very special."
In a stroke of irony, the win that moved Schiffner past Red Wilson (257-373-33) for third place came against Wilson's former team. The Red Sox put up a valiant fight in an effort to protect their former coach's place in Cape Cod League history, including two bases-loaded opportunities and a gem of a start turned in by Lee Hyde.
But, fittingly, several crucial managerial moves made the difference for Schiffner and the A's. He ordered a gutsy intentional walk in the tenth inning, a walk that loaded the bases for the dangerous Ben Crabtree, but relief pitcher Robert Woodard induced a fly ball to left field for the third out.
And in the bottom of the tenth, Schiffner maneuvered his team into position for the game-winning run. He sent speedster Chris Getz, scratched from the starting lineup with a wrist injury, to pinch-run at second base, and that decision paid off when catcher Ryan Bono hit a sacrifice fly to shallow left.
The throw from Y-D's Frank Curreri was a good one, but Getz's hook slide was better, and he swiped his hand across home plate in time to score the winning run. Once again, a combination of Schiffner's astute managing and his players' talent had earned Chatham a victory.
"He lets the kids play, so the victories are theirs," said Chatham general manager Charlie Thoms. "He's always (said) that talent is what wins the game and that he doesn't have to coach. He's being a little modest, but he knows how to bring in players who do well here. I don't think that's a secret."
Schiffner developed a reputation as a Cape League legend with frequent success – his A's have made eight trips to the playoffs and have won two league championships in his 12 seasons. His regular season record is now 258-226-10 for a .532 winning percentage. He has managed in 494 Cape League games, leaving him six short of becoming the fourth manager in modern-era history to reach 500 games. His 23 playoff wins are fourth most and his 281 combined wins are also third best.
The coach's personal exposure reached a peak in 2001 when Brian Dennehy – who looked and acted nothing like the real-life Schiffner – portrayed him in the movie Summer Catch.
But his reputation comes mostly from his longevity – he decided years ago to forgo offers from college programs in order to stay at Plainfield (Conn.) High School during the school year and at Chatham in the summer.
"What better place to be than right here?" he asked rhetorically. "Would I love to be a college baseball coach? Yeah, I really would. But I am, in my own inevitable way."
His enthusiastic smile has become as much an institution at Veterans Field as the blankets on the hill in right field. And that experience means he knows how best to create a team in the unique atmosphere of Cape Cod baseball.
"He knows the adjustment to the wood bat," Getz said. "He gets the most out of players, and he gets players to mesh together. You're bringing in kids from all over the country who have never played together, and I think he does that pretty well."
And as long as he's able, he'll continue to assist young players on their journey to the majors during their short stop on Cape Cod.
"This is it, this is where I want to be," he said. "I'm not moving anyplace, and I'll stay here until I can't coach anymore or Chatham asks me to leave."
Chances are, that's not happening anytime soon. -- By Brian MacPherson, CCBL Intern, [email protected]

Braves Skipper Harvey Shapiro Reaches Milestone
With a 3-1 victory over Hyannis on Sunday (25 July), Bourne Braves manager Harvey Shapiro put an historic notch in his belt as a Cape League skipper. The win was number 150 in Shapiro's illustrious career on the Cape.

Harvey Shapiro, Bourne Braves
SportsPix 2004
"This is a special league," Shapiro said. "I've enjoyed coaching in this league, with the friends that you make and the players that you coach."
The win was not only a milestone for the Braves manager, but more importantly it kept Bourne in the hunt for a playoff spot. The Braves moved into third place, a point behind Falmouth and four points behind Hyannis.
A two-run double by Joe Simokaitis gave Bourne a 2-1 lead and Kyle Padgett delivered the insurance run with an RBI single, plating Simokaitis.
Shapiro has been a mainstay in the Cape League for more than a decade. He was the head man for the Falmouth Commodores for five years, where he picked up 112 wins. At Falmouth, Shapiro won a divisional title in 1994, his first season with the Commodores, and was named league Manager of the Year in 1996 after leading Falmouth to the league championship series.
For the last two years, Shapiro has been the manager in Bourne, where in his first season with the Braves guided them to a West Division crown in 2003.
Shapiro is the 11th manager in modern-era history to reach 150 wins and has a record of 150-139-3 in his seventh season. The 39th Braves game this season will be his 300th as a Cape League manager, making him the 12th man to reach that level.
"It is a nice mark for the organization to have a veteran coach with such a resume
behind him," said Bourne general manager Mike Carrier.
As a Cape League skipper, Shapiro has coached a number of Major League players including Darin Erstad, Eric Milton and Jeff Weaver. He and long time pitching coach Dick Schoonover also have the distinction of having managed the pitchers with the top two regular season ERA's in the modern-era. Milton recorded a 0.21 ERA in 1996 and last season Eric Beattie had a 0.39 ERA.
Shapiro is currently the head coach at the University of Hartford. He joined the Hawks staff in 1998 after a 15 year stint at Bowdoin College. --T.J. Lasita, CCBL Intern, [email protected]
John Garner, Jr.
CCBL Director of Public Relations & Broadcasting
(508) 790-0394 [email protected]
Bruce hack, League Historian