News
06/21/2005 10:54 AM
Article By:
for immediate release: 21 June, 2005
Wareham Gatemen Participate in
Sullivan Tire Anniversary Special Game
ROCKLAND, Mass. – In honor of Sullivan Tire's 50th anniversary, the Wareham Gatemen traveled to Rockland to take on the Cranberry League's Rockland Cardinals in an emotional exhibition game last Sunday.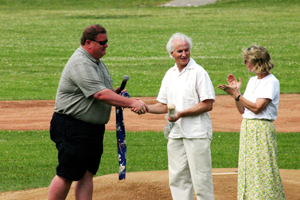 Pre Game Ceremonies with
Paul Galop, Paul Sullivan and Judy Scarafile
The game honored the lifelong efforts of Rockland administrator Myles Angeley, whose dream was to have his Cranberry League team play a team from the Cape Cod Baseball League.

After months of planning, the game came to fruition on Sunday, June 12th, at Rockland Memorial Stadium.

In front of a large and appreciative crowd, numerous dignitaries, including Cape Cod Baseball League President Judy Scarafile and Commissioner Paul Galop, surprised Angeley, who was unaware of the Cape League's Gatemen's visit to play his Cardinals. Scarafile and Galop presented Angeley with gifts from the league and gave Paul Sullivan of Sullivan Tire a special bat, with a green handle in honor of his efforts in setting up this game.

Sullivan, whose family began Sullivan Tire in Rockland 50 years ago, always wanted to get a Cape League team to come to the South Shore to play one of the Cranberry League teams, thereby showcasing the amazing talent the Cape League has to offer on a daily basis. With the help of Angeley, who also shared Sullivan's vision, the dream became a reality.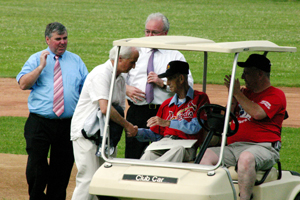 Paul Sullivan and Myles Angeley share the dream.
Wareham, one of the first Cape League teams that Sullivan Tire sponsored, was a logical choice to participate in this event. And Wareham President & General Manager John Wylde was happy to oblige.

"It was a great privilege for us to participate in (Sullivan Tire's) 50th anniversary and the honoring of long-time Cardinals administrator Myles Angeley," noted Wylde.

As for the game itself, the Gatemen flexed their muscles early, building a 14-0 lead after just 2 1/2 innings of play. But the Cardinals showed they have some talent, too, eventually trimming the margin to 14-10 after eight innings. Wareham added three more runs in the ninth and held on for a 17-11 win.

But the winners on this day were Sullivan and Angeley, both of whose dream became a reality on a bright June day in Rockland !
Scott Sanford, CCBL Website Editor
[email protected]