News
08/19/2005 1:34 PM
Article By:
18 August 2005
THIS WEEK IN THE CAPE LEAGUE
2005
B.F.C. WHITEHOUSE
OUTSTANDING PITCHER AWARD
Andrew Miller and Tim Norton
CAPE COD, Mass. -- To their teammates, battery-mates, coaches and opposing batters, it comes as no big surprise that Chatham's Andrew Miller (North Carolina) and Falmouth's Tim Norton (UConn) each had spectacular summer seasons in the Cape Cod Baseball League.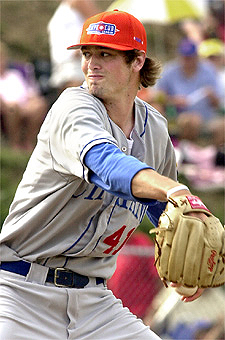 Andrew Miller , Chatham A's
SportsPix 2005
Along with representing their respective divisions in the 2005 CCBL All-Star game, Miller and Norton also share the distinction of being presented the B.F.C Whitehouse Outstanding Pitcher Award.

Miller was perfect in the win column for the A's, going 6-0 in seven starts. The towering 6'6" lefty dominated hitters, giving up only 22 hits and striking out 66 batters in just 49 innings of work, while maintaining a miniscule 1.65 ERA. In Chatham's only playoff win, Miller tossed eight innings against Orleans, getting a no-decision while striking out 10 and giving up three hits. On the mound at UNC, Miller was 8-4 with a 2.98 ERA and ranked second in the ACC with 104 strikeouts.

The sophomore southpaw was one of 64 candidates for the 2005 Xanthus-Dick Howser Trophy, given annually to the top player in collegiate baseball. John Thoden (Wareham) was the last Tar Heel to receive the Outstanding Pitcher Award in 1998.

It didn't take Norton long to make his presence known on the Cape. The right-handed Commodore hurled a two-hitter in his first appearance this summer and was named the league's first 2005 Coca Cola Pitcher of the Week.

Less than two months after his first start, Norton exits the season with a share of the prestigious B.F.C Whitehouse Outstanding Pitcher award.

"I'm obviously honored to receive this award with so many great pitchers like Miller, [Jared] Hughes (Chatham) and [Daniel] Bard (Wareham) in this league," said Norton. "I got off to a good start and continued to throw strikes and stay around the plate."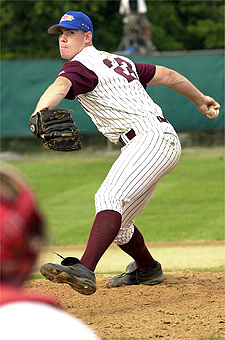 Tim Norton , Falmouth Commodores
SportsPix 2005
The 6'5" hurler was equally impressive throughout the rest of the summer, finishing with a 5-1 record and a 1.77 ERA. In ten appearances, including nine starts, Norton tossed 61.0 innings, yielding just 15 walks while tallying 77 strikeouts, second in the league behind Bard.

As an all-star for the CCBL's Western Division, Norton threw a hitless seventh inning while facing the heart of the East Division's lineup.

"You have to be confident in your abilities at this level," said Norton. "When you are not allowing walks, things tend to go your way."

For the Huskies, Norton compiled a 2.62 ERA in Big East Conference action, ranking him fifth in the league. He was named Big East Pitcher of the Week May 23 and pitched one scoreless inning out of the bullpen in the 2005 NEIBA College All-Star game played at Fenway Park.

Norton, a Pascoag, R.I., native, and former Cotuit Kettleer John Kelly, are the only players from UConn to be named as the Outstanding Pitcher in a CCBL season. The prestigious award was first given to Bernie Kilroy (BC) of Cotuit in 1964. Jenna Kubesch, Intern, [email protected]

John Garner, Jr.
CCBL Director of Public Relations & Broadcasting
(508) 790-0394 [email protected]

Interns: Stephanie Falco, Jason Itzkowitz, Jenna Kubesch, Michael Kydd, Nicholas Mucci, Colin Reed