News
08/19/2005 1:38 PM
Article By:
THIS WEEK IN THE CAPE LEAGUE
2005
MANNY ROBELLO AWARD
10TH PLAYER
BOURNE - He's often the player who makes the biggest difference on a team; he's often the player who comes out of nowhere to lead his team to what has infinitely been dubbed the "Promised Land." Some will call him a five-tool player, and others, simply put, they refer to him as the guy who can do just about anything on the baseball field.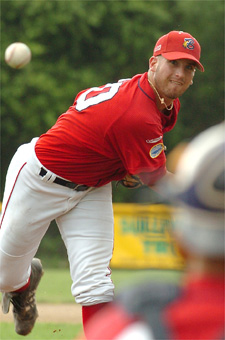 Brad Lincoln, Bourne Braves
SportsPix 2005
Any of these perceptions could be attributed to Brad Lincoln, who was awarded the Cape League's Manny Robello 10th Player Award.

After being recruited to the 2005 Braves mainly as a pitcher, Lincoln's role quickly changed as it was determined that a dual role would be far more advantageous on a club that was in desperate need of offense.

"As I understand it, this award is about a player who exceeds expectations and contributes in all aspects of the game," said Braves GM Mike Carrier. "With what Brad accomplished this season for our team, he fully deserves the honor of this award."

Rounding out the season, Lincoln, a Clute, Texas native and University of Houston standout, finished the 2005 campaign with a 3-1 record and a 1.32 ERA in nine games started. Also in the nine games he started, Lincoln allowed no homeruns and recorded 10 walks and 56 strikeouts – which was good enough for a 1:5 walk-to-strikeout ratio.

Perhaps his most impressive accomplishment was being named to the 2005 Western Division All-Star Team. There, Lincoln showed off his offensive skills in front of more than 80 Major League scouts by going 1-for-2 with a walk in the DH role.

Lincoln will be remembered this year as the player who was able to contribute on all levels to a team that went to the League Championship series for the second time in three years. In the division final versus Cotuit, Lincoln's pitching ability was called to task over his .243 season average, six homeruns and 25 RBI. In that game, Lincoln recorded the win after going six strong innings, striking out five Cotuit players, giving up seven hits and allowing only one earned run. It was a feat, as Carrier puts it, that he has seen before.

"Brad was unbelievable all year. In one game in Falmouth he hit 98 MPH and has consistently thrown 96 MPH well into the eighth inning in some of his games," said Carrier.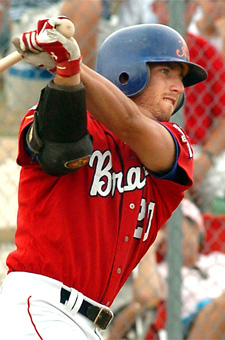 Brad Lincoln, Bourne Braves
SportsPix 2005
Lincoln, who is draft eligible next year, made the best of his appearances all season long by often displaying his raw power and talent at the right place and the right time in front of major league scouts. Lincoln finished third in the league in slugging percentage (.477) – something which he carried over from his sophomore season at the University of Houston. With the year he had on the Cape, fans often scrambled to get his autograph, which traditionally is a sign of big things to come.

With a chuckle, Carrier was quick to point out that Lincoln is "more than welcome to come back to Bourne next season." With the numbers he put up this season, Lincoln would be welcomed just about anywhere next season on the Cape. However, his home, right now, is in Bourne – the place where he made his mark and what will one day be known as the launching pad of his professional baseball career.

Lincoln is the second Braves player to win the award. In 2002, fellow Texan Trey Webb of Baylor University won the award, making Lincoln's accomplishment that much more meaningful to the Bourne Braves organization.

Lincoln will head back to the University of Houston, where his veteran leadership and Cape Cod Baseball League experience will be a welcomed commodity.

Of special note, Carrier confirmed that Lincoln did have catch an early plane back to Houston, thus leaving the Cape early. He was pinch hit for in the second championship game and Brett Bartles went 3-for-3 in this role. Michael Kydd, CCBL Intern, [email protected]

John Garner, Jr.
CCBL Director of Public Relations & Broadcasting
(508) 790-0394 [email protected]

Interns: Stephanie Falco, Jason Itzkowitz, Jenna Kubesch, Michael Kydd, Nicholas Mucci, Colin Reed