News
08/19/2005 1:42 PM
Article By:
18 August 2005
THIS WEEK IN THE CAPE LEAGUE
2005
CURLEY CLEMENT
UMPIRE AWARD

Jim McNally Selected As Top Cape League Umpire
CAPE COD, Mass. – After beginning the season tirelessly working behind the plate during the day-long Cape League tryout, Jim McNally (Sandwich) has received the second annual Curly Clement Award, presented for officiating excellence and contributions over the years to baseball umpiring.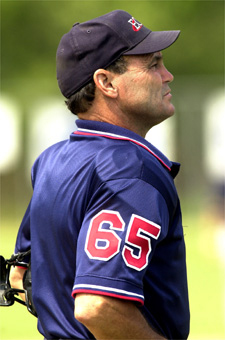 Jim McNally
SportsPix 2005
The award was presented to the Cape Cod Baseball League (CCBL) Umpire of the Year at Lowell Park prior to the Bourne Braves-Cotuit Kettleers playoff game Wednesday.

Clement worked as a Cape League umpire for four decades and was inducted into the CCBL Hall of Fame in 2002. He worked 16 NCAA Regionals, several ECAC Division I Baseball Championships and two College World Series during his career. His final Cape League appearance was working home plate at the 2000 CCBL All-Star game.

McNally began the Cape League season by umpiring the entire day at the official CCBL Tryout at Spillane Field in Wareham in early June. He follows in the footsteps of Walter Benston, who captured the initial Clement Award in 2004.

"Jim did a great job working behind the plate during a long day at the tryout in Wareham," said CCBL deputy commissioner Sol Yas. "Without a doubt, he is one of the most highly-respected umpires working in the Cape League and assigned by the ECAC."

McNally is a veteran umpire who is in the Boston Park League Hall of Fame. He has a roofing business on Cape Cod and lives in Sandwich, Mass.

Jim was an ECAC umpire for several years until 1982 when he separated from the CBUA . He did not umpire again until 1997 when the regular CCBL umpires refused to work in a "labor" dispute. Jim's close friend, late supervisor Dick Clegg, persuaded Jim to return to umpiring. In 2000, Jim went through the CBUA new member-testing program and was accepted back into the organization that November. He has umpired local college baseball, the Cape Cod Baseball League, and the NECBL the past five years.

The ECAC, in its fifth consecutive season assigning umpires for the CCBL, provided more than 9,500 umpiring assignments this past season for more than 250 institutions. There are 86 ECAC umpires assigned to the Cape Cod Baseball League games this summer. John Garner, Jr., Director of Public Relations & Broadcasting, [email protected].

John Garner, Jr.
CCBL Director of Public Relations & Broadcasting
(508) 790-0394 [email protected]

Interns: Stephanie Falco, Jason S. Itzkowitz, Jenna Kubesch, Michael Kydd, Nicholas Mucci, Colin Reed