News
06/11/2006 3:35 PM
Article By:
for immediate release: 12 June, 2006
U.S. Military All Star Game
All "Stars and Stripes" for the Red White and Blue Tour in Cotuit
Cotuit, Mass. - The U.S. Military All-Stars kicked off their Red, White and Blue Tour in grand fashion with a high -scoring 11-10 victory over the Cape Cod Baseball League preseason squad Sunday before 1,125 fans at Lowell Park.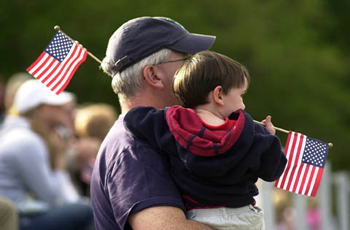 A patriot day in Cotuit
SportsPix 2006
After Saturday's Bank of America clinic and game at Chatham were washed away due to inclement weather, both teams were pleased to get on the field in Cotuit, despite sloppy defense in the early going.
"Both teams were a little rusty and we did not play our usual style, but it was still good to go out there and perform against these great players," said Military All-Stars GM Terry Allvord. "The Cape League opened itself to us and we feel very privileged and honored to come up here to this part of the country. All the fans, league officials and opposing players have been great to us."
Sophomore lefty Charlie Furbush (St. Joseph's-ME) of the Hyannis Mets started for the CCBL, while right-hander Larry Drake, an eighth-year U.S. Naval aviator, began on the mount for the Military.
The exhibition win over the CCBL was the 20th in their last 22 games for the Military, while it was the first action of any sort on the Cape this season for the preseason squad.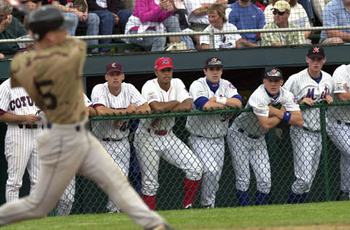 All hands on deck, with 32 CCBL players participating in the game.
SportsPix 2006
Big first baseman Adam Amar (Memphis), who was signed by the Y-D Red Sox out of the tryout in Wareham last Saturday, was the hitting star for the CCBL with a towering two-run homer.
Henry Santos, a member of the U.S. Coast Guard serving in Guam, drove in the tying and go-ahead runs for the Military All-Stars with a two-run single in the seventh inning
Following a post-game dinner, Allvord and Co., hit the road for a 14-hour drive to North Carolina, where they played another game Monday night.
The Military All-Stars have been invited by the NBC Association to play in their 68-team tournament in Wichita, Kansas on July 29.
For more photos of the Game visit Sportspix, official photographer of the Cape League

Chad Burkart, CCBL Intern [email protected]