News
06/24/2006 3:53 PM
Article By:
24 June 2006
Cape League Special
Tim Norton to Dress in Pinstripes
CAPE COD, Mass. – The Major League Baseball draft is a time full of emotions, as many young men across America find out whether they are good enough to be considered by professional teams.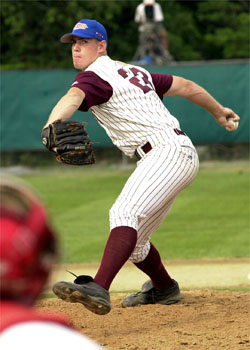 In 2005, Tim Norton earned the John Claffey
New England Top Prospect Award
photo by SportsPix / 2005
It is two days full of hope, promise and dreams come true for countless high school and college baseball players

For last year's co-winner of the Whitehouse Award as the top pitcher in the Cape Cod Baseball League (along with Andrew Miller), Tim Norton's dream came true with the 224th overall pick to the New York Yankees.

"If I was a Major League decision maker, I would have selected him (Norton) sooner, but that is unfair insight we have," said Falmouth Commodores Assistant GM Dan Dunn. "The Yankees may have come up big to get this great leader and hard worker, on and off the field."

In the 2006 Draft, players did not always go as projected. Cape League players wrapped up the top six draft spots, with Andrew Miller (North Carolina) of the Chatham A's rounding out that top group instead of leading it. Fellow Tar Heel Daniel Bard, who played for Wareham last summer and was projected as a Top 10 draft pick, went to the Boston Red Sox at No. 28.
College baseball being one of the most under-publicized collegiate sports, the Cape League helps to get these players noticed. In the summer of 2005, that's what it did for both Miller and Norton, a talented right-hander from Connecticut.

Both players won the 2005 B.F.C. Whitehouse Award for outstanding pitcher of the year. Norton was also named the top regional prospect with the John Claffey New England Top Prospect Award.
"Norton was originally signed as a temp player, so for him to come out of those beginnings and have a huge year, and then be selected as co-pitcher of the year shows how much grit and hard work he truly has," Dunn stated.

Last summer, Norton played for the Falmouth Commodores and had an outstanding year. He finished with a 5-1 record and a 1.77 ERA. The hard thrower had 77 strikeouts in 61 1/3 innings of work.

This success carried over into his senior year with UConn. In 2006, he finished with a 7-2 record and a team leading 2.04 ERA. He had four complete games and one shutout. In a team-high 92 2/3 innings of work, Norton stuck out 96 batters.

Norton, a native New Englander from Pascoag, R.I., will attempt to follow in the footsteps of other recent Cape Leaguers selected in the seventh round, including Casey Blake, Geoff Blum, Mark Loretta, and Reed Johnson.
By Chad Burkart, CCBL Intern [email protected]