News
06/29/2006 3:59 PM
Article By:
for immediate release: 29 June, 2006
Former CCBL Umpire Curly Clement Passes Away
HAMPTON, N.H. - Robert "Curly" Clement, a Cape Cod Baseball League Hall of Famer and umpiring legend, passed away at 4 a.m. today (June 29) at the Hampton Healthcare Center in Hampton, N.H.

The charismatic Clement was an umpire for four decades and was inducted into the CCBL Hall of Fame in 2002 and the Amateur Baseball Umpires Hall of Fame.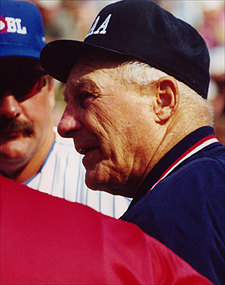 Curly Clement began working Cape League games in the 1960's and was still active at the turn of the 21st century, serving as both an umpire and evaluator.
Photo by S. Walsh/ CCBL
A native of Manchester, N.H., he had a long and interesting career in college baseball, umpiring in 16 NCAA Regionals, 12 ECAC Baseball Tournaments and two NCAA College World Series.

"Curly was truly an ambassador of the Cape League," said CCBL President Judy Walden Scarafile. "He will be sorely missed by those who knew him, however he will be missed more by those who never had the chance to know him."

Curly began his umpiring career in the 1950's and realized a dream in 1979 when he umpired a major league game at Fenway Park during the umpires strike, even ringing up Hall of Famer Carl Yastrzemski on an attempted steal.

Clement was affectionately known as the Candy Man for settling arguments on the field with a handful of sugar -coated licorice.

He is survived by his wife of 65 years, his son Don Clement, his daughter Gail Wiley and their families. Funeral arrangements are being made to be held in Exeter, NH.

Clement is being remembered this 4th of July weekend with a moment of silence and flag flying at half mast before each game.