News
08/11/2005 9:57 AM
Article By:
11 August 2006
THIS WEEK IN THE CAPE LEAGUE
Championship Week
Wareham Takes Game 1 of the Championship
SOUTH YARMOUTH, Mass. – The Cape Cod Baseball League Championship Series was fully underway on this sunny, beautiful August afternoon, as baseball fans from all over made their way to Red Wilson Field to see the Yarmouth-Dennis Red Sox host the Wareham Gatemen. The Red Sox took the field for their third home playoff game in four days, but unlike yesterday's win over Brewster to advance them to the playoffs, the visiting Gatemen came away with a 4-2 win to take a 1-0 lead in the best-of-three series.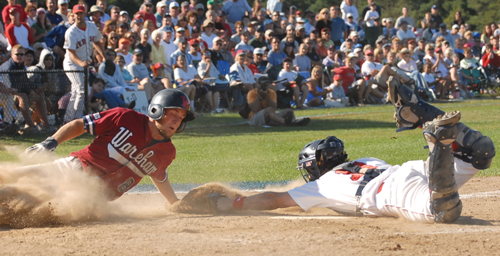 Beamer Weems and Danny Lehmann looking for home.
swilson / ccbl
Left-handed starting pitcher Adam Perkins took the mound to face a sizzling Wareham club that had just swept the best offensive team in the regular season, the Cotuit Kettleers. The Gatemen, meanwhile, sent workhorse John Ely to the hill in the hopes of jumping out to a series lead.
Perkins came out strong, striking out outfielder Diallo Fon and power hitter Bradley Suttle in the early innings. Y-D struck first at the plate in the first inning, when Alden Carrithers reached on a fielder's choice, stole second base and then advanced to third on a wild throw from Gatemen catcher Joel Collins. Steve Strausbaugh delivered an RBI single to bring home Carrithers with the first run of the championship series for the Sox.

Both pitchers seemed to cruise through the next three innings. Perkins had six strikeouts through three innings while walking just one. However, the Gatemen scored with two outs in the top of the fourth to tie the game. After back-to-back singles by Luke Murton and Jason Ogata, Collins atoned for his error by driving in Wareham's first run.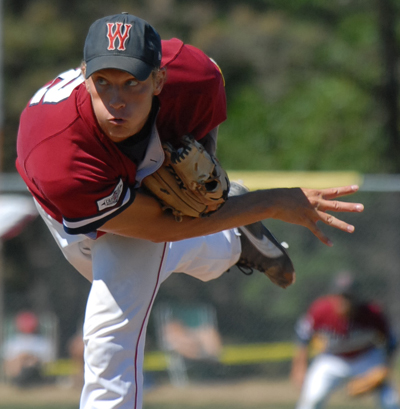 John Ely was determined to keep the Gatemen in the game.
swilson / ccbl
After a visit to the mound from head coach Cooper Farris, Ely escaped a fifth-inning jam, stranding two men with a strikeout and a ground out. "Coach said to just go after them and trust your stuff and that's what I did all day," said the Miami University righty after the game.

Ely's team responded with run support, coming out firing in the sixth inning. Outfielder Dominic de la Osa reached safely on an error and then advanced to third after Suttle singled to right center. Both de la Osa and Ogata (fielder's choice) scored on a Collins double deep to right field. Collins, who entered the game hitless in this year's playoffs, would end up going 2-for-4 with three clutch RBIs in Game 1.

"I'm feeling great out there. For the upcoming game we're going to continue swinging a tough bat. We want to win this thing back home," said the hard-nosed catcher after the game. "Whoever we face out there, we are ready for them. They have a great pitching staff but we can hit off anyone."

Despite trailing by three runs, the Sox still would not go away – as they proved in the Eastern Division Playoffs against Brewster when they came back from a 1-0 series deficit to win in three games. They threatened once again in the bottom of the seventh inning, when Buster Posey reached second base on an error. Taylor singled to put runners on the corners, but the Gatemen managed to escape yet another jam thanks to a 5-4-3 double play, during which Posey scored the second Y-D run.

No phantom tag by Jason Ogata.
swilson / ccbl
Wareham relief pitcher Martin Beno got out of the seventh and pitched a gem for three innings, striking out three. After the game, Farris said that Beno would even be available to go again tomorrow. "He's always ready to play. He's a very durable kid. We are in good shape in the pen," Farris proclaimed.

In a winning effort, Ely lasted six strong innings with five strikeouts, only letting up two unearned runs. For Y-D, Perkins went eight solid innings while giving up four runs (three earned) and striking out seven. He was pulled in the ninth in favor of Jordan Pacheco, the first baseman and occasional reliever who gave up a walk and struck out one in the ninth.

The Gatemen are happy to be one win away from the Cape League title, with a chance to be crowned before the home fans at Spillane Field on Saturday night at 7 p.m. Y-D did battle down from 1-0 against Brewster to take the East Division, though, and Farris knows it. "These guys came back to beat Brewster," he said. "It's going to come down to who makes the plays and who makes the strikes."

Without question, both squads have a great amount of fight left in them. Nevertheless, the champions are the ones who take their sense of competitiveness to a higher point. In Cooper Farris's words, "I just tell the players to take their game to another level in games like these. I tell them they can't lose their edge and to be ready to play."

NOTES: Red Wilson Field was packed by a large crowd of over 3,000 fans, a group that would eventually witness a grand prize of over $1,600 in the 50/50 raffle … to start off the series, Randy Shepard, CEO of Eye Health Services, threw out the game's honorary first pitch. Shepard has been a generous benefactor to the Y-D Red Sox and the Cape League. His company sponsors both teams in this championship series … in Game 2, Wareham starter Luke Putkonen will be opposed by Y-D's Kevin Boggan … if necessary, a third and deciding game will be played at Red Wilson Field on Sunday at 3 p.m.
By Jason Itzkowitz, CCBL Intern [email protected]

Interns 2006 : Chad Burkart, Johnna DeChristoforo, Jonathan French, Michael Kydd, Lauren Malone
Adam McGillen, Nicholas Mucci, Courtney Reilly, Daniel Scalia, Shannon Taylor, Kevin Wolfe