News
11/13/2006 10:52 AM
Article By:
for immediate release: 13 November, 2006
CCBL's Randy Shepard - Citizen of the Year

Hyannis, Mass. – Randy Shepard, CEO of Eye Health Service and long-standing sponsor of the Cape Cod Baseball League, was recently named Citizen of the Year by the Hyannis Area Chamber of Commerce. This prestigious award was presented to Shepard during the annual dinner at the Four Points Sheraton. Recognized for his dedication to volunteerism and his generosity, Shepard accepted the award but then praised others in the room for the work that they do, in particular with the Cape League, Red Cross and March of Dimes.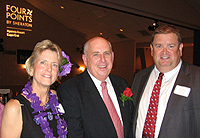 Citizen of the Year Randy Shepard
with President, Judy Walden Scarafile, and Commissioner Paul Galop,
after the award presentation.
photo: CCBL/ PS
Recognition of his tireless efforts was met with great applause as Shepard continues to support many organizations and especially give of his time. He is always among the first one to volunteer for a project or support an event or fundraiser.

Shepard was surrounded by friends in the community and co-workers from Eye Health Services, many of whom drove from Quincy to surprise him. . He is the past president of the Yarmouth Area Chamber of Commerce, past Treasurer of the Hyannis Area Chamber of Commerce, Board member of the Cape Cod Chamber of Commerce, Board member of the South Shore Chamber of Commerce, to name a few.

His contributions to the Hyannis area and all of Cape Cod have been numerous. And the fact that Randy Shepard does not live on Cape Cod makes his award of Citizen of the Year even more significant.

The Cape League is very proud to announce that Randy Shepard is a new member of the Board of Directors.

Randy Shepard was the "Inquisitor" at a South Shore Chamber breakfast, hurling questions at Brockton Rox partner Mike Veeck. Randy borrowed the umpire uniform from a CCBL friend!

League secretary Kim Wolfe congratulates Randy
photo: CCBL/ PS