News
08/14/2007 3:10 PM
Article By:
14 August 2007
THIS WEEK IN THE CAPE LEAGUE
Championship Week
It's Two Straight Titles, Three in Four Years
For Yarmouth-Dennis after Blanking Falmouth, 2-0
FALMOUTH, Mass. – In a championship game dominated by pitching, the Yarmouth-Dennis Red Sox used an eighth-inning squeeze bunt to push across the winning run and complete a two-game sweep of the Falmouth Commodores Tuesday night at Guv Fuller Field.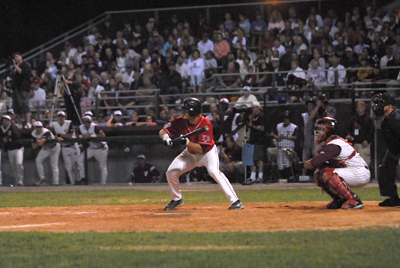 Nick Romero laid down the perfect suicide squeeze for the winning run.
swilson 2007
The dramatic 2-0 victory delivered Y-D's second straight Cape Cod Baseball League championship and third in four years while extending Falmouth's title drought to 27 seasons. The Commodores haven't won a Cape League title since 1980.

Starter and playoff MVP Trevor Holder (Georgia) held Falmouth to just one hit and struck out 10 Commodores through eight innings before giving way to the league's top closer, Nick Cassavechia (Baylor), who struck out the side in the ninth.

Holder, 4-1 with a 0.81 ERA in the regular season, allowed just one base runner through six innings, No. 8 hitter Andrew Giobbi (Vanderbilt), who hit an opposite-field single in the third.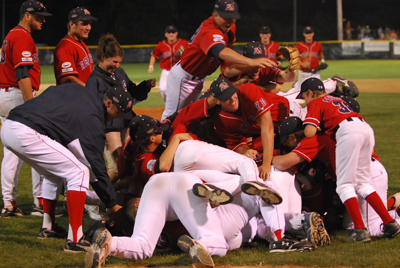 Y-D Celebration began
swilson 2007
The 6-2, 193-pound right-hander's mound mastery earned him the Star of Stars Playoff MVP award from ESPN/SportsTicker. After the game, the Birmingham, Ala., native summed up his experience on the Cape in a few simple words: "It was the best summer of my life," he exclaimed.

Back in June, the Red Sox jumped out to six straight victories and continued to lead the league's East Division from start to finish. Entering the postseason with a 31-12-1 record, they rolled over Chatham in two straight divisional playoff games and did the same against West Division standard-bearer Falmouth.

Manager Scott Pickler said he knew he had a special team from the first time he saw his players practice. "I've never felt this way before," said Pickler, who also presided over Y-D's 2006 and 2004 championships. "I hadn't seen them play in any games yet, but I knew from the chemistry and the hard play and the way they listened (that they were special)."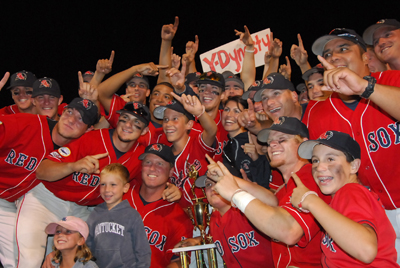 Y-D celebrates its third championship in four years
swilson 2007
Pickler was honored earlier in the playoffs as the CCBL Manager of the Year.
Unlike Y-D, Falmouth got off to a slow start, but gained momentum as the season progressed and finished a close second to West Division leader Bourne. The Commodores proved they were for real as they ousted Bourne from the divisional playoffs in two straight games.

The Commodores were dealt a severe blow before the finals began as third baseman Conor Gillaspie (Wichita State), the league's MVP and leading hitter, left the team to return to school.

Neither team could mount an offense through seven innings as pitching dominated Tuesday's game.

Falmouth's starter, left-hander Christian Friedrich (Eastern Kentucky), struggled with his control early, but pitched out of several jams. The Red Sox threatened in the second when they loaded the bases with two outs on a single and two walks, but Friedrich retired Joe Railley (San Francisco) on a ground ball to Jeremy Farrell (Virginia) at first base.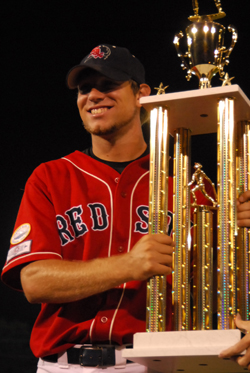 Trevor Holder, Star of Stars Playoff MVP
swilson 2007
The 6-3, 210-pound starter found himself in another tight spot in the fifth after Railley walked and Grant Green (Southern California) singled him to third. With the heart of the Y-D order coming up -- Posey, Castro and home run king Gordon Beckham (Georgia) – the Red Sox seemed poised to take the lead. But, in a display of clutch pitching worthy of an MVP, Friedrich struck out all three batters swinging as he masterfully mixed his curveball with his 90-mph-plus fastball.

Friedrich was replaced by right-hander Brett Graffy (Notre Dame) after five innings in which he struck out six batters, walked four and gave up three hits.

Graffy ran into trouble in the eighth when he walked leadoff hitter Buster Posey (Florida State) then surrendered a ringing double down the right field line by Jason Castro (Stanford), setting the stage for the play that would decide the championship.

Falmouth manager Jeff Trundy brought in right-hander Luke Burnett, a 6-8, 260-pound flamethrower from Louisiana Tech, to replace Graffy and ordered an intentional walk of Aaron Luna (Rice) to set up a force play at any base.

As Luna was being walked, Red Sox skipper Pickler pulled the next hitter, Nick Romero (San Diego State), aside and told him to take a strike, then lay one down. Burnett fired a 96-mph fastball past Romero for ball and followed with a 90-mph heater for a strike.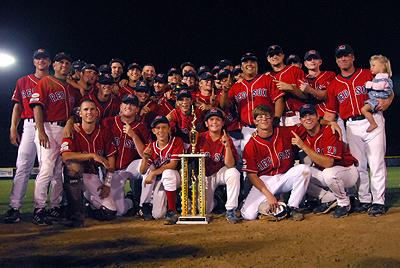 Y-D Red Sox
2007 Championship Trophy
swilson 2007
On the next pitch, with Posey breaking from third, Romero squared to bunt, somehow got his bat on an inside fastball and pushed it past Burnett as Posey crossed the plate standing. The play obviously rattled the Commodores and the Red Sox added another quick run when Castro raced home on a passed ball.

Falmouth's best opportunity of the game came in the seventh inning when Holder gave up consecutive walks to outfielders Aja Barto (Tulane) and John Wallace (Oregon State). But he managed to pitch himself out of the jam by striking out Farrell for the last out of the inning.

Falmouth got a runner into scoring position in the ninth when third baseman Phil Carey (Winthrop) doubled off the league's leading closer, Nick Cassavechia (Baylor). But the 3,967 fans' glimmer of hope was extinguished as Cassavechia struck out the side to deliver the victory and the Arnold Mycock Championship Trophy to Y-D.
By Kevin Wolfe, CCBL Intern [email protected]

Interns 2007: Erica Bailey, John Hannemann, Liz Hoffman,
Gabriella Remington, Kevin Wolfe