News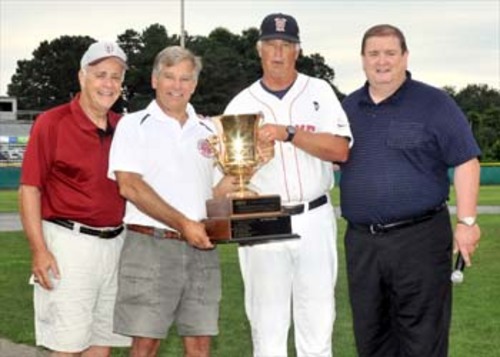 08/11/2011 10:56 AM
Article By:
WAREHAM --- Tom Gay had big shoes to fill, both literally and figuratively, when he succeeded the late John Wylde as top man in the Wareham Gatemen organization. Some doubted whether a larger-than-life figure such as Wylde could ever be replaced, but Gay has proven to be a worthy successor.
The Gatemen's president and general manager has helped the franchise continue as one of the most successful in the Cape Cod Baseball League, and it is on his watch that Wareham becomes the first three-time winner of the coveted Commissioner's Cup after sharing the honor with Falmouth in 2004 and winning it outright three years later.
Some feared that Wylde's death in early 2009 would signal the end of Wareham's success, but Gay, who had already taken on an expanded role as Wylde waged a valiant battle against liver cancer, quickly calmed those concerns, continuing many of Wylde's policies while introducing new ones that have made the Wareham organization even stronger.
Cape League Commissioner Paul A. Galop noted that Wareham was a unanimous choice for the 2011 Commissioner's Cup despite solid efforts by other franchises. "The team's professionalism really set the standard this year, and that is quite a tribute as several of the CCBL teams participated heavily in their respective communities when not playing baseball," said Galop. "These types of student-athletes are exactly what we want representing the CCBL and our hats are off to the job well done by the Wareham Gatemen."
The Cup winner is determined by Galop and his two deputies, Sol Yas of the East Division and Dick Sullivan of the West. Before rendering a decision, the trio considers numerous factors including such mundane matters as whether required paperwork is filed in a timely fashion and how well games are conducted. The on- and off-field conduct of the players is another factor, as is the frequency of arguments with umpires and the need for disciplinary action.
In all cases, Wareham excelled this season. "The team performed admirably on and off the field and the leadership displayed by manager Cooper Farris and President-GM Tom Gay was absolutely exemplary," said Galop.
Gay, a practicing attorney, said the Gatemen are "extremely honored" to have been chosen to receive the 2011 Commissioner's Cup and he gave credit to his dedicated corps of volunteers. "The Commissioner's Cup is a testament to all our members and the pride they take in everything we do," he said. "Our organization has grown to over 36 hard-working, dedicated and talented individuals who spend countless hours year-round to make the franchise better.
"Our goal each season is to provide the most enjoyable summer experience for each of our players and fans," Gay continued. "We pledge a total commitment to help our players prepare themselves for professional baseball. Our coaching staff is always available and has been dedicated to teaching our players the game of wood-bat baseball. I believe the awarding of the Commissioner's Cup is recognition by the league of this dedication and we are very grateful to Commissioner Paul Galop and his deputies for this honor."
Gay declined to single out individuals for credit, preferring instead to praise the entire Gatemen organization. While Wylde was personally involved in everything from field maintenance, to scorekeeping, from finances to public address announcing, Gay has proved to be a master at delegating responsibility and finding the right people to fill key roles.
Among them are his wife, Sheri, the Gatemen's secretary and vice president for housing, jobs and outings and coordinator of the team's youth clinics, plus Tom Angelo, his assistant general manager, and Dotty Tamagini, Judith Whiteside, Tom Worthen, Glen Hannington and advertising coordinator Leanne Schiller. A long list of other selfless volunteers makes the Wareham Gatemen not only the number one organization in the Cape Cod Baseball League, but one of the best among all of America's summer collegiate leagues.
Commissioner's Cup History
2011 Wareham
2010 Bourne
2009 Yarmouth-Dennis
2008 Hyannis
2007 Wareham
2006 Cotuit
2005 Bourne
2004 Falmouth & Wareham