News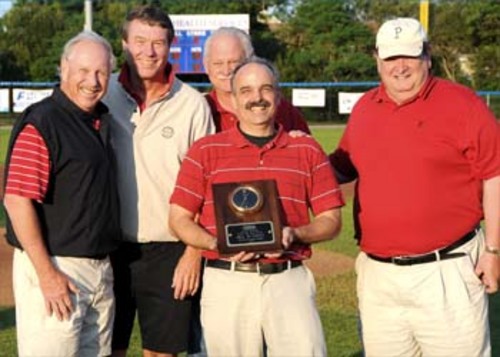 08/10/2011 10:29 AM
Article By:
CAPE COD, Mass. – It was a banner season for the high-flying Hyannis Harbor Hawks – at least until they faced Falmouth in the Cape Cod Baseball League Playoffs.
Not only did Hyannis post the best regular-season record in the league with a 29-15 mark, but the Harbor Hawks finished third in attendance, drawing 32,314 fans for an average of 1,539 per game.
This year the Cape League presented its inaugural John Wylde General Manager of the Year Award to Bill Bussiere, of the Harbor Hawks.
The award is named after John Wylde, former Wareham Presidentand General Manager, who dedicated 25 years of his life to the league. The beloved Wylde was a major promoter of the league and a Hall of Fame inductee in 2010. Wylde passed away in 2009 after a courageous battle with cancer. The award was created to honor a GM who represents everything Wylde was: hard working, dedicated and a Cape Leaguer through and through.
Bussiere, who epitomizes these qualities, just completed his fourth year as GM of the Harbor Hawks. He also served as Assistant GM for five years. For Bussiere, this is an honor he'll never forget.
"It makes me feel great, because it was voted by my peers," said Bussiere. "Winning an award name after John Wylde, who I knew, and for whom I had an
unbelievable amount of respect, is such a great honor."
The Harbor Hawks, who finished last season at the bottom of the
league, had a major turn-around this season, leading the West Division and the entire league for the entirety of the regular season. With fan attendance on the rise
from last season, this year was one Bussiere thoroughly enjoyed. He attributes a majority of this success to the players.
"The biggest thing that has made this organization successful this
year has been the team," said Bussiere. "They really gelled and made this year so
special."
Bussiere believes this award is shared with all those around him. He acknowledges his wife and family for their unwavering support and Hyannis field manager, Chad Gassman for his friendship and loyalty over the past four years. And, in light of his character, Bussiere believes the award is about the team, not individuals.
CCBL President, Judy Walden Scarifile believes the league is better for having people like Bussiere in its ranks.
"Having Bill receive the first General Manager of the Year award is
very fitting," said Scarafile. "He's been with the Hyannis organization for years and
is very deserving of this. Bill is a hard worker and dedicated to his team, the Harbor Hawks organization and the Cape League. The entire league was genuinely very happy for Bill when the announcement was made."
***