League News
02/10/2008 8:55 AM
Article By:
Press Box at Wareham's Spillane Field to Become
"John Wylde Press Box" in Ceremonies
at Cape Cod Baseball League's Season-Opening Game
WAREHAM, Mass. – The press box at Spillane Field will become the John Wylde Press Box as part of the ceremonies on John Wylde Game Day June 13 when the Wareham Gatemen open the 2008 Cape Cod Baseball League season by hosting the Falmouth Commodores.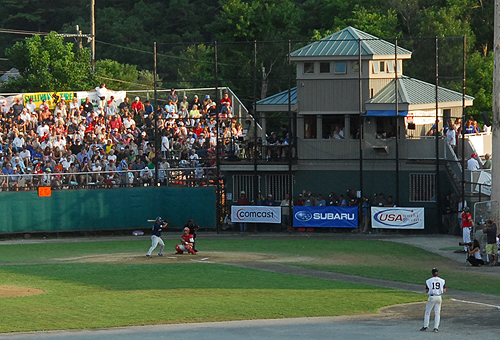 The John Wylde Press Box at Spillane Field.
ccbl photo / swilson 2007
Breaking tradition, it will be the only game played on opening night as the league joins Wareham in honoring the Gatemen's Hall of Fame leader and benefactor, who is being treated for inoperable cancer of the liver, which was diagnosed last Sept. 14.

The Cape League's remaining eight teams will play their season openers the following night.

Representatives from the league, each franchise, the Town of Wareham and the Wareham School Department will participate in the tribute to Wylde. With their teams idle, fans and players from throughout the league also are expected to be on hand.

Wareham knows Wylde not only as the Gatemen's No. 1 booster, but as a dedicated public servant as well. Over the years, he has been a member of the town's Finance Committee, Personnel Board, Recreation Committee, Grounds Committee and Board of Selectmen.

He has been Wareham's longtime representative on the Cape League's Executive Committee and has served as its statistician and director of the league's corps of official scorers.

Last Nov. 3, he was inducted into the Cape League Hall of Fame and was named winner of the Richard Sullivan Executive of the Year award. A few months earlier, his Gatemen organization won its second Commissioner's Cup in three years for its exemplary efforts both on and off the playing field, a direct result of Wylde's leadership.

On Dec. 11, with family members, friends, neighbors and Gatemen boosters in attendance, state Rep. Susan Williams-Gifford presented Wylde with a proclamation voted on by the House of Representatives. It summed up a life of service to his community and his fellow citizens, citing his dedication not only to his beloved Gatemen but to other equally important organizations.

Despite his illness, Wylde remains inremarkably good spirits and continues his active involvementwith both theGatemen organization and the Cape League.He has retained the title of team president and says he plans to return to his familiar roles of public address announcer and official scorer at his team's home games this season. He is looking forward to celebrating his 70th birthday on April 2.

He has turned the general manager reins over to his assistant GM, Tom Gay, who remarked, "I'll have big shoes to fill as GM. In fact, I don't know if they can really be filled."

Gay called Wylde "the ultimate gentleman" and stated that he has "never heard a negative word from any player about John. That is really remarkable after all the years he's put in."

During Wylde's tenure, the Gatemen have won five Cape League championships.

At the Feb. 4 meeting of the league's Executive Committee, Wylde was warmly welcomed by his colleagues and in typical Wylde fashion came armed with a box filled with detailed statistics. He was thrilled to report that for the first time the number of Cape League alumni on the rosters of Major League teams has topped the 200 mark and said his research had revealed that among big league players who attended four-year colleges, nearly half (48 percent) were former Cape Leaguers.

Wylde also told his fellow committee members that "I can never thank all of you enough for all you did to pick up my spirits during this difficult time. Your support has been overwhelming and will always be remembered and cherished by both (his wife) Patty and me."

The Spillane Fieldpress box was built after the 1997 season, funded by Wylde and the Gatemen. Dotty Tamagini, a vice president of the team, noted that "it has always been John's policy to fund capital projects at the field, not only for the benefit of the Gatemen, but for the Town of Wareham as w ell."

Mrs. Wylde had expressed the belief that the press box should be, "architecturally pleasing as well as functional," and to everyone's delight the finished facility met both those criteria.

The press box is referred to as the "Gatemen Taj Mahal." The lower level houses the food concession area, souvenir shop and storage area, while the upper level is used by the public address announcer, scoreboard operator, Internet broadcasters, media personnel and the radar gun operator.

There is also a side deck offering Major League scouts an unobstructed view of the field.
Bill Watson
CCBL PR Staff
(508) 833-2380
[email protected]