League News
03/20/2008 9:01 AM
Article By:
Bill Watson of Cape League's Public Relations Staff
Honored as a Hero at American Red Cross Breakfast
HYANNIS, Mass. – Heroes walk among us.

And one of them, a member of the Cape Cod Baseball League family, was honored on March 7, 2008, by the American Red Cross at its sixth annual Heroes Breakfast, held at The Resort and Conference Center at Hyannis.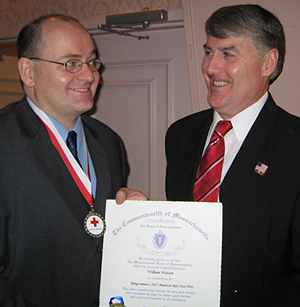 Red Cross Heroes Breakfast honored Bill Watson.
John Garner presented the Red Cross medal and state legislature certificate to Bill.
He is Bill Watson, whose quick, calm and decisive action as a 911 dispatcher for the Barnstable County Sheriff's Office is credited with saving the life of an elderly Falmouth man. The incident occurred on July 22, 2007, triggered by a 911 call from a distraught woman who said her husband had stopped breathing.

Here, in Bill's own words, is the sequence of events that followed:

"I heard another man's voice in the background. He was a friend visiting, and I asked to speak to him because she was so distraught. He got on the phone and said his friend was on the floor and not breathing. I assured him the ambulance was on the way and, knowing that starting CPR right away was critical, I asked if he would be willing to do CPR. He said he would help, so I instructed him to roll the patient onto his back and then to tip the head back to open the airway.

"Sometimes this move alone will get the person breathing, but the patient did not begin to breathe on his own, so I instructed the caller to pinch the nose and cover the mouth and blow two large breaths into the mouth. He did this and right away the patient started to cough. I instructed the man on the phone to look at the patient's chest to see if it was rising and falling. Lo and behold, it was – just those two breaths got him breathing again!

"But the patient was still unconscious, so I told the man to roll the patient on his side. This is very important because it prevents the tongue from blocking the airway. He did this and monitored the patient's breathing until the paramedics arrived."

Bill Watson had done his job. The 15-year veteran 911 dispatcher with the Barnstable County Sheriff's Office had called upon his training and experience to help save a human life.

"It was very rewarding to know that my direct actions helped save someone's life," Bill said recently. "Many times, these calls don't end on a positive note, but you have to keep trying because there can be happy endings like the one I had that night … The fact that his wife called 911 right away and that the friend was willing to jump right in made a huge difference in the outcome."

Watson learned about a month ago that Sheriff James M. Cummings had nominated him for the Red Cross award. "The sheriff is very proud of his 911 center and the service it provides to the citizens of Barnstable County," Bill said, adding, "To tell you the truth, I handle so many 911 calls that it took a second to sink in and to realize I won an award for a call that occurred nearly eight months before."

Watson, a resident of Bourne, was one of two 911 dispatchers from the sheriff's office to be honored at the March 7th Red Cross event. A colleague, Lori Enos of Forestdale, had helped save the life of an Orleans man who had fallen and suffered a head injury. Her telephone instructions to a family member who relayed them to other family members initiated CPR efforts which were credited by Orleans Fire Department paramedics and EMTs with being instrumental in saving the man's life.

Thanks to these two 911 dispatchers, two elderly residents from opposite ends of Cape Cod were brought back from the brink of death.

Each of the nearly 50 Red Cross Heroes received a Red Cross medal and a certificate from the state Legislature. Watson's presentation was made by his Cape Cod Baseball League colleague, John W. Garner Jr. Proudly watching from among the audience of 500 were Bill's wife, Carmel, and their two children, Sam and Kim, as well as Bill's mother, who "drove from New York just to be at the ceremony," Bill said. "That meant a lot to me."

He added, "Both my children went to school late that day, but were able to tell their classmates that their dad was a hero. They were so proud of me, and telling everyone … it was very humbling."

Watson is a volunteer in the Public Relations Department of the Cape League. His duties include researching and writing stories which appear on the league's web site and are released to local, regional and national media.