League News
08/24/2008 2:19 PM
Article By:
Five Former Cape League Players
Help Team USA Take Bronze Medal
As Baseball Bows Out of Olympics
Baseball's last hurrah as an Olympic sport has come to an end in Beijing, and the significance is not lost on the five former Cape Cod League players who helped Team USA take a Bronze Medal. The Americans come home disappointed at their failure to capture the Gold Medal in this Olympic baseball tournament, the last for at least eight years and possibly forever.

Led by infielder Jason Donald (Cotuit 2004 & 2005), who hit .381 in eight tournament games, Team USA rallied from a three-run deficit to defeat Japan, 8-4, in Saturday's Bronze Medal clincher. Donald's two-run homer – his first of the Games – put the finishing touches on a four-run fifth inning which put the game out of reach.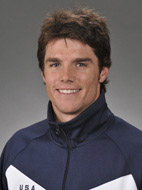 Jason Donald
Photos by nbcolmpics.com
and USA Baseball
Brian Fleming Photography
Matt LaPorta (Brewster 2006) hit his second home run of the tournament to aid the U.S. effort as Team USA completed its Olympic odyssey with an over-all record of 6-3.

The Americans were seeded third after the preliminary round in which their only losses were one-run heartbreakers to Korea and Cuba. Their chances for gold ended Friday when they were pounded by Cuba, 10-2, in a game which was a complete turnaround from an earlier 5-4 loss to the more experienced Cubans.

Cuba went on to play for the Gold Medal Saturday, but fell, 3-2, to undefeated Korea. The Cubans, who received the Silver Medal, lost only twice in the tournament, both times to the 9-0 Koreans.

Absent from the medal round were China, Taiwan, the Netherlands and Canada.

The disappointed and frustrated Canadians won only two of their seven elimination-round games, shutting out both China and the Netherlands in blowouts, but each of their six losses was by a single run, including a 5-4 defeat at the hands of the Americans.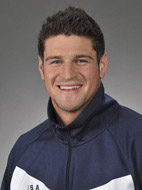 Matt LaPorta
Photos by nbcolmpics.com
and USA Baseball
Brian Fleming Photography
Ex-Cape Leaguer Adam Stern (Harwich 2000), expected to be one of Team Canada's big guns, was held to just four hits in 22 at-bats. Stern, a center-fielder who was briefly with the Red Sox a few years ago, did have two triples but managed just one RBI.

Stern hit .287 with seven doubles and 23 stolen bases at Harwich in 2000, following his sophomore season at the University of Nebraska in which he batted .356.

Meanwhile, ex-Kettleer Donald and fellow infielder Brian Barden (Brewster 2001) played major roles in getting Team USA into the medal round. Donald, a Philadelphia Phillies farmhand, batted .313 in the preliminaries, while Barden, a St. Louis Cardinals prospect, hit .296. Donald continued to pound the ball in the medal games and wound up as the team leader in batting, but Barden cooled off and was held to just one hit in seven at-bats against Cuba and Japan. He hit .265 over-all.

"I thought we did a great job today," Donald told reporters after the Bronze Medal game. "After last night and coming into today, we could have folded really easily, especially when they got up, 4-1. I think we just kept fighting and kept having great at-bats knowing that we had a good amount of time in the ball game. It was a great win. We would have liked to have won a gold, but we won today, and getting out of here with a medal -- that is huge."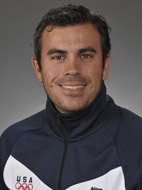 Brian Barden
Photos by nbcolmpics.com
and USA Baseball
Brian Fleming Photography
A two-year starter as Cotuit's shortstop, Donald has always been impressive in the field, but his bat has been another matter. As a Kettleer in 2004, he hit .206 with four doubles, two home runs and six RBI. In 2005, he batted .272 with similar extra-base-hit and run-production figures. These numbers were well below those he compiled in his three seasons at the University of Arizona, where he hit .322, .288 and .332 before signing with the Phillies for a reported $400,000 as their third-round draft pick (97th over-all).

Barden played third base for the Whitecaps in 2001, batting .248 with three doubles, one home run, six RBI and five stolen bases in 36 games. The Oregon State star was chosen in the sixth round of the 2002 amateur draft by the Arizona Diamondbacks and spent six full seasons in the D-Backs' system before being acquired by St. Louis.

Also contributing to the Americans' cause were outfielder John Gall (Orleans 1996), with a .242 average, four doubles, a home run and five RBI, and right-handed pitcher Mike Koplove (Chatham 1997), who was nearly perfect in three relief appearances. In 5 1/3 innings at Beijing, he walked one, did not allow a hit or a run and struck out five. Gall, a Florida Marlins farmhand, played at Stanford, while Koplove, out of Delaware, is currently in the Los Angeles Dodgers' organization.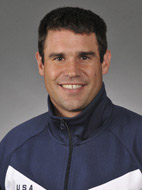 John Gall
Photos by nbcolmpics.com
and USA Baseball
Brian Fleming Photography
Successful Cape League seasons led to both Gall and Koplove being drafted -- Gall by the Cardinals in the 11th round in 2000 and Koplove by the D-Backs in the 29th round in 1998

He's probably the best known of the Cape Leaguers on Team USA, but outfielder-first baseman LaPorta hit only .158 with three hits – two of them home runs -- in 19 tournament at-bats. His first round-tripper came in the Americans' 7-0 romp over the Netherlands in their second tournament start. The Cleveland Indians prospect was beaned in the U.S.'s 9-1 victory over China. He started the next game against Taiwan, but complained of dizziness and, after it was determined he had suffered a mild concussion, he was held out of the final preliminary game against Japan and the medal round loss to Cuba.

LaPorta was a central figure in a blockbuster trade last month as the Milwaukee Brewers sent three highly regarded prospects – LaPorta, left-handed pitcher Zach Jackson (Hyannis 2003) and right-hander Robert Bryson -- and a player to be named later to Cleveland for left-hander C.C. Sabathia, the 2007 American League Cy Young Award winner.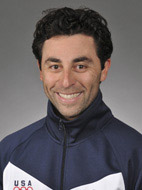 Mike Koplove
Photos by nbcolmpics.com
and USA Baseball
Brian Fleming Photography
LaPorta batted .250 in 30 games at Brewster in 2006, with five doubles, six homers and 19 RBI, and was named winner of the prestigious Daniel J. Silva Sportsmanship Award. He was the Brewers' first pick (7th over-all) in the 2007 draft and reportedly collected a $2-million signing bonus. Despite his struggles in Beijing, he is considered a "can't miss" prospect who will likely find himself in an Indians uniform after MLB rosters expand in September.

The University of Florida product finally got back in the lineup for Saturday's Bronze Medal game. He responded with two hits -- a solo homer in the second and a single in the fifth.

"It may be bronze, but it feels like gold," LaPorta told Mark Newman of MLB.com as he stood next to Korean winning pitcher and Olympic workhorse Hyunjin Ryu following the medal ceremony. "It was a huge honor just being here with the best players. What Korea did was amazing because there are so many great ball clubs here. To be able to win every game in this competition is special."

The Americans hit .248 as a team while their pitching staff owned a 3.05 ERA in 82 2/3 innings. Defensively, Team USA fielded at a .984 clip, committing a total of six errors.

Back in July 2005, the International Olympic Committee held a secret-ballot vote on all 28 sports on the Olympic program, and baseball and softball were the only two that failed to receive the majority of votes needed to stay in the Games. So the Beijing Olympics were likely the last Games to feature those two sports, at least for the foreseeable future. They are the first sports dropped from the Olympics since polo was eliminated in 1936.

Critics cited the uncertainty over the length of games because neither baseball nor softball is governed by a clock. And the absence of baseball's best players – Major Leaguers – has also been criticized, especially since NHL and NBA players now populate the rosters of many nations' Olympic hockey and basketball teams.

DISA & DATA: Baseball became a demonstration sport in the Olympics in 1984 and has been a medal sport since 1992. Cuba has won three of the four Gold Medals since then. The U.S. claimed the bronze in 1996 at Atlanta and took the gold in 2000 at Sydney, Australia, with a team of minor leaguers led by current Milwaukee Brewers right-hander Ben Sheets (Wareham 1998, Orleans 1999). A graduate of Northeastern Louisiana University, Sheets was a member of the Triple-A Indianapolis Indians when he was selected by Team USA for the 2000 Games. The starting pitcher in Team USA's opener against Japan, he worked seven innings, giving up four hits and no runs, leaving with the U.S. ahead, 2-0. But Japan later tied the score, so, although the U.S. did win the game in extra innings, Sheets wound up with a no-decision. Five days later, he started against Italy, pitching six innings in which he gave up four hits, one earned run and one unearned run. He was removed with the score tied, 2-2, but the U.S. went on to win, 4-2. In the Gold Medal game, the Americans faced two-time defending champion Cuba, which had beaten them, 6-1, earlier in the tournament. This time, Sheets was at his absolute best. He pitched a complete game, allowing only three hits, all singles. Sheets induced 16 ground ball outs and did not walk a batter. Only one Cuban runner got as far as second base ... In an earlier story, we referred to LaPorta as the only former Cape Leaguer on the U.S. squad. Obviously, we couldn't have been more wrong. Thanks to Andy Jarvis (Bourne 2001) for pointing out that his Oregon State teammate, Barden, played at Brewster that same season. And special thanks, too, to Bill LaPoint of Cotuit for passing along additional information. LaPoint was Donald's house parent when the young infielder played for the Kettleers … On hand in Beijing's Wukesong Stadium to watch the medal games was another former Cape League player, Bobby Valentine (Yarmouth 1967), an ex-Major League player and manager (Rangers and Mets) and now skipper of the Chiba Lotte Marines in Japan's Pacific League … Former Falmouth Commodore pitcher Aaron Crow finally got into a game for the Fort Worth Cats of the American Association Saturday night, Aug. 22. Crow, who was named No. 1 pro prospect in the Cape League in 2007 and was Washington's first-round pick (ninth over-all) in last June's amateur draft, could not come to terms with the Nationals by the Aug. 15 deadline so the University of Missouri star signed with the independent minor league club. He pitched one scoreless inning, allowing one hit with no walks and no strikeouts to share in a three-pitcher shutout, 7-0, against El Paso. He remains eligible for the MLB draft in June 2009 ... The only other ex-Cape League player who was drafted in the first round, but failed to sign, is pitcher Joshua Fields (Y-D 2006), who just completed his senior year at the University of Georgia. Because Fields has no college eligibility remaining, he was not subject to the draft deadline and his agent, Scott Boras, continues to negotiate with the Seattle Mariners, who used the 20th pick in the first round to select the right-hander … Did you notice that the broken wrist that has sidelined Tampa Bay Rays rookie third baseman Evan Longoria (Chatham 2005) was the result of a pitch thrown by another ex-Cape Leaguer? Seattle reliever J.J. Putz (Y-D 1997, Hyannis 1998) uncorked the fastball that felled Longoria in the ninth inning of a game on Aug. 7 and put him on the 15-day disabled list … The Aug. 18 issue of Sports Illustrated features a stunning, two-page photo spread showing Boston's Kevin Youkilis (Bourne 2000) being plunked by Kansas City right-hander Luke Hochevar (Cotuit 2003) in the first inning of a 6-2 Red Sox victory on Aug. 6. Youkilis, Boston's hottest hitter of late, was removed from the game but returned to the lineup two days later … On the very next page, SI focuses on some of the up-and-coming prospects in baseball, including Baltimore's top draft pick in 2007, Matt Weiters (Orleans 2006), who has been tearing up the minors and is being groomed as the O's catcher of the future. Weiters, who was voted the Cape League's top pro prospect in 2006, was hitting .351 with 72 walks and 42 extra-base hits, including 24 home runs, in high Class A and Double-A ball. The 22-year-old is projected to be Baltimore's starting catcher on Opening Day next April and SI rates him as potentially the best catcher in baseball … Did you know there are several subtle connections between the NBA champion Boston Celtics and the Cape Cod Baseball League? Well, for starters, Jan Volk, who heads SportsPix, official photographers of the Cape League, served as the Celtics' general manager from 1984 to 1997. And Dave Gavitt, best known as founder of Big East basketball and as head coach of the Providence College Friars, played and managed at Orleans in the Cape League before achieving success on the hardwood. The former Dartmouth athlete served as the Celtics' senior executive vice president from 1990 through 1994. Finally, there's the Cape League's first "modern era" commissioner, Daniel J. "Danny" Silva, who took over as the 1963 season began and provided the leadership that started the league on the long road to national prominence that it enjoys today. Shortly after Boston Garden president and Celtics founder Walter Brown hired Honey Russell as the team's first coach, Russell brought Silva aboard as his assistant. Both Silva and Russell were with the C's from 1946 to 1948.

Joe Sherman, CCBL Public Relations Staff ([email protected])