League News
08/24/2008 2:21 PM
Article By:
Pitching Coach Chad Gassman
Succeeds Robinson as Hyannis
Mets Manager for 2009 Season
HYANNIS, Mass. -- Pitching coach Chad Gassman has been promoted to manager of the Hyannis Mets for the 2009 Cape Cod Baseball League season, according to an Aug. 20 announcement by the Hyannis Athletic Association. Gassman succeeds Rick Robinson, who departs to pursue other interests after a 22-22 campaign in 2008.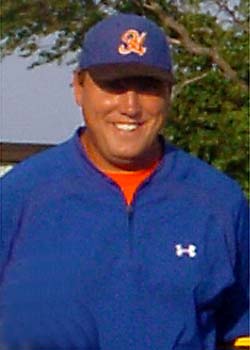 Chad Gassman, Hyannis Head Coach
SportsPix 2008
Gassman becomes the sixth Mets manager this decade. Robinson held the job for one season after replacing Greg King (2004-2007). King had succeeded Keith Stohl (2002-2003), who took over from Mike Juhl (2001). Tom O'Connell served as Mets manager in 1999 and 2000.

As a collegian, Gassman, a native of Gettysburg, Pa., pitched for Morehead State in Kentucky, where he became friends with Robinson, the head coach at Young Harris College in Georgia, a national junior college baseball power. One of Robinson's first moves after landing the Hyannis job last September was to convince Gassman to sign on as his pitching coach.

Gassman wound up overseeing one of the league's elite staffs. Mets hurlers finished with a 3.21 ERA, third best in the 10-team circuit, while allowing a league-low 344 hits. Closer Russell Brewer (Vanderbilt) set a team record with 12 saves and won the league's Russ Ford Reliever of the Year Award, while ace starter Andrew Carraway (Virginia) was selected to both the West Division All-Star Team and the year-end All-League Team. Veteran starter Austin Hudson (Central Florida) also excelled under Gassman, leading the league with a 1.50 ERA in his seven starts.

Gassman was actively involved in the popular Hyannis Mets Youth Baseball Academy, which saw record attendance and growth in 2008.

Entering his third season as head baseball coach at Waldorf College in Forest City, Iowa, where he also serves as events/facilities coordinator for the college's athletic department, Gassman makes his home in Forest City with his wife, Shannon, and their daughter, Taylor, 2.

Gassman played at Morehead State and received his master's degree from Olivet Nazarene University in Bourbannais, Ill., where he began his coaching career. During his tenure with the Tigers, they earned back-to-back NAIA World Series appearances and won two Chicagoland Collegiate Athletic Conference titles. He later coached at Young Harris College and scouted for the Florida Marlins.

He has also been a coach and an instructor with Athletes in Action, the Chicago White Sox Summer Training Academy and Notre Dame Baseball Camps.

Contact Mets General Manager Bill Bussiere ([email protected]) for more information.