League News
10/15/2008 2:42 PM
Article By:
Chatham Athletics Change
Name to Chatham Anglers
CHATHAM, Mass. -- The Chatham Athletic Association has voted to change the name of its Cape Cod Baseball League team from Chatham Athletics to Chatham Anglers.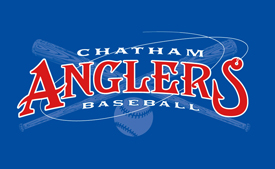 Chatham Anglers
"We are very excited about this new name, especially its relation to the Chatham fishing community," said association president Peter Troy. "We hope that our loyal fans will agree and that new fans will get hooked on the Anglers."

Troy explained that the decision to drop the name the team has used for almost 40 years was made because of a recent agreement between the Cape League and Major League Baseball Properties which permitted Chatham and five other Cape League franchises which share names with Major League Baseball teams to maintain those names by agreeing to purchase uniforms and merchandise for resale only from MLBP-licensed vendors.

A Nov. 1 deadline was set for those six teams to decide whether to accept or reject that provision. Chatham is the first franchise to announce a name change, which effectively exempts the organization from MLBP purchasing requirements.

No official announcement has been made yet by officials of the Bourne Braves, Hyannis Mets, Yarmouth-Dennis Red Sox, Harwich Mariners and Orleans Cardinals, although a recent informal poll of the franchises indicated that Bourne and Orleans were also considering renaming their Cape League entries.

Joe Sherman, CCBL Public Relations Staff ([email protected])