League News
10/29/2008 2:43 PM
Article By:
Cape League President Judy Walden Scarafile
Receives Woman of Achievement Award
Since 1991, Judy Walden Scarafile has served as president of the Cape Cod Baseball League. During that time, she has presided over the incredible growth and success of the top collegiate summer league in the country.

Last week, Scarafile was one of three recipients of Woman of Achievement awards, presented by the Massachusetts Federation of Business and Professional Women Clubs Inc. and the Cape Cod Cranberry District. Joining her as award winners were Paula Peters of the Wampanoag tribe and state Rep. Sarah Peak.

The Business and Professional Women/USA was founded in 1919 to promote equity for all women in the workplace through advocacy, education and information.

"I grew up, thanks to my mom, believing you are judged by work you do as an individual, not the work you do as a woman," said Scarafile. "Why would gender have anything to do with your ability to organize a group of volunteers, cover a baseball game, or run a business? The answer, of course, is it wouldn't and it shouldn't.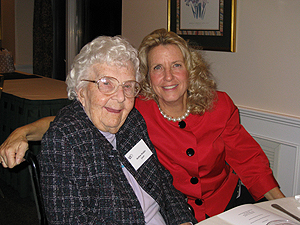 Judy Walden Scarafile with her mother Barbara Walden
photo by Kathey Fulham Parcels
"My love of baseball is not about trying to compete with men, it's about having a passion for the game and an interest in making it a major part of my life. And thanks to the love, support and guidance from my husband Peter, I have been able to follow my dream of a dual career in amateur baseball and pharmacy."

In 1970, Scarafile was the first woman in the press box at Yankee Stadium as a league publicist covering the All-Star Game between the Cape Cod Baseball League and the Atlantic Collegiate Baseball League.

She has been a registered pharmacist for 33 years and for 25 years worked at Players Pharmacy in East Dennis, while rising in the CCBL ranks as an official scorer, writer, league publicist, vice president and, for the past 17 years, league president.

In her role as the Cape League's CEO, Scarafile oversees finances, public relations, special events and day-to-day activities. She organizes and guides the 10 franchises on league issues, policies and projects and acts as a liaison with Major League Baseball.

For the past seven years, she has also served as the league's director of corporate development, raising more than $3 million in sponsorship, corporate and foundation support.

In 2003, Scarafile became and first and only women to be inducted into the Cape League Hall of Fame -- perhaps the crowning moment of her professional life.

Although she invariably shuns the spotlight and attributes much of her success to teamwork, her list of accomplishments during her 38 years with the league is long and impressive, on the baseball side and in the community. It includes:

• Increased national recognition of the CCBL including soaring fan attendance (330,000-plus in 2008) and scout attendance.
• Partnering with local chambers of commerce, including the Cape Cod Chamber, to cross promote.
• Co-chair of Pride in Cape Cod campaign which brought the CCBL the honor of being named number one volunteer organization with the greatest economic impact on Cape Cod.
• Co-chair of Warner Bros. 'Summer Catch' premier, the Cape's first Hollywood premier and the largest fundraiser in Cape League history.
• Organized Safe Transportation Project to bring a fleet of buses to transport 250 CCBL players throughout the Cape to the 220 games and secured the funding for it.
• Assisted with Touching the Game documentary on the CCBL, which won two film festival awards.
• Established partnerships with several local volunteer organizations to give back to the community.
• Helped secure Yawkey Foundation grants for field improvements around the league totaling more than $1 million.
• Organized partnership with Salvation Army to have CCBL volunteers "person" kettles at Christmas time.
• Organized CCBL volunteers to "person" phones for annual March of Dimes telethons.
• Serves as trustee of the Yawkey Foundation, on the executive board of Cape Cod Five Cent Savings Bank Charitable Foundation and on the executive board of Massachusetts Baseball Coaches Association, and served on the board of directors for Habitat for Humanity of Cape Cod.
• Serves as a volunteer with Disaster Relief of American Red Cross, Marine Animal Stranding Network, St Mary's Nights of Hospitality for Homeless, and volunteers at the NCAA Division III New England Regional Baseball Tournament in Harwich.
• Certified volunteer for the Community Emergency Response Team and Medical Reserve Corps.
• Responded to the victims of Hurricane Katrina, first as a volunteer pharmacist in Louisiana, and later assisted for two weeks with Habitat for Humanity in Louisiana.

"I have been blessed to have the opportunities to become involved in some wonderful organizations and foundations," said Scarafile. "As with many volunteer positions, you truly receive much more than you give. The incredible experience and feelings you derive from giving your time and yourself are unmatched.

"Peter and I have been able to work together on several projects, like Habitat for Humanity in New Orleans and the St Mary's Homeless program and the Medical Reserve Corps' operation of the pharmacy at Otis for Hurricane Katrina evacuees. How unique and special each and every experience was!"
John Garner Jr., CCBL Director of Public Relations & Broadcasting