League News
09/02/2009 11:29 AM
Article By:
Chuck Sturtevant named Vice President
of Cape Cod Baseball League
CAPE COD, Mass. – Long-time Falmouth Commodores administrator Chuck Sturtevant has been selected vice president of the Cape Cod Baseball League.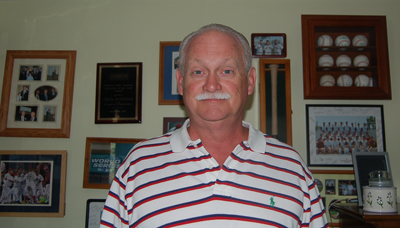 Chuck Sturtevant
The personable Sturtevant succeeds CCBL VP Phil Edwards, who passed away this past summer after a long illness. The former Falmouth Commodores president, treasurer and general manager served as chief financial officer of the Under Armour Cape League All-Star Game at Fenway Park.

Sturtevant joined the Commodores as a board member in 1987 and served as Falmouth President from 1988-1991. From 1991 to 2006, he served treasurer and general manager for the Commodores. He was an alternate CCBL Executive Board Member from 1988 to 1991 and from 1991-06 was a rep for Falmouth on the Executive Board. He was on the CCBL's Budget committee from 1990 until 2006 and rejoined that committee in 2009.

"I'm delighted to see Chuck Sturtevant come on board as vice president," said CCBL President Judy Walden Scarafile. "He brings so much to the table with his years of experience on the franchise- level. Chuck played a key role in the All-Star Game at Fenway Park this past July and already has jumped in on some projects. This is very good for the Cape League."

Sturtevant worked for several years at Shepley Wood Products in Hyannis as chief operating officer and is father-in-law of current Falmouth Commodores GM Dan Dunn.

The Cape Cod Baseball League celebrated its 125th season in 2009 and continued to provide fans with competitive baseball entertainment, where the country's top college players display multi-dimensional skills in their purest form.
After being populated mostly by GI's returning from World War I in 1919 and WW II in the late 1940's, the CCBL continued to be populated by a combination of local and regional college players until 1963, when it became officially sanctioned by the NCAA.

Following a decade (1974-84) of using aluminum bats, the Cape League became the first collegiate summer league to return to wood in 1985 and became even more popular with major league scouts and college players and coaches.

With over 1,000 alumni performing at all levels of professional baseball, over 200 former Cape Leaguers populate major league rosters, including Cy Young Award winner Tim Lincecum (Harwich '05), slugging first baseman Mark Texeira (Orleans '99), AL Manager of the Year Eric Wedge (Yarmouth-Dennis '88), AL Comeback Player of the Year Carlos Pena (Harwich '96/Wareham '97) former Cy Young Award winner Barry Zito (Wareham '97 & '98), former AL MVP Frank Thomas (Orleans '88), former AL batting champion Nomar Garciaparra (Orleans '93), former NL Fireman of the Year Billy Wagner (Brewster '92) and New York Yankees manager Joe Giardi (Cotuit '84).

The list of Cape League alumni totals some 780 names, including those of Baseball Hall of Famer Harold "Pie" Traynor (Falmouth '19), former New York Yankee greats Red Rolfe (Orleans '30) and Thurman Munson (Chatham '67), Major League managers Bobby Valentine (Yarmouth '67) and Buck Showalter (Hyannis '76), Cy Young Award winners Steve Stone (Chatham '68) and Mike Flanagan (Falmouth '72), Firemen-of-the-Year Wayne Granger (Sagamore '62) and Jeff Reardon (Cotuit '74-76), Major League scout Lennie Merullo (Barnstable '35), slugging first baseman Jeff Bagwell (Chatham '87-'88) and Craig Biggio (Y-D '86), the only former Cape Leaguer to amass over 3,000 hits in the major leagues.

John Garner, Director of Public Relations & Broadcasting