League News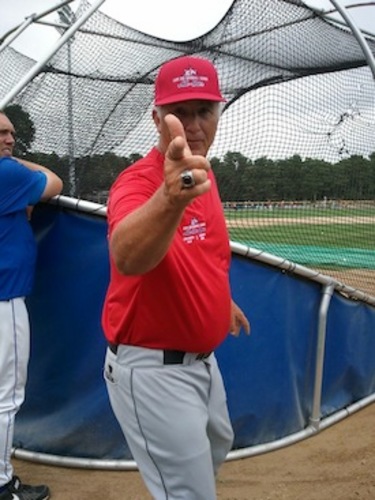 06/19/2013 4:27 PM
Article By:
Wareham Field Manager Cooper Farris, now in his 13th season with the Gatemen, is fresh off of his third Cape Cod Baseball League championship. The Mississippi native with the thick drawl brings his own unique, laid-back Southern style to the competitive fields of the Cape – a quality players and volunteers frequently note when referring to him. Farris started with Wareham in 2001, coaching the team to a title that same year, and repeating that success in 2002 and again last summer. In 2006, he coached the Gatemen to the championship game, losing a 2-1 heartbreaker to Y-D.
The early years of baseball
"I was born in Corinth, Miss., in the north part of the state. I moved down to Perkinston when my dad got the job at Mississippi Gulf Coast Community College, on the coast. I was in fourth grade, I think, when I moved down there. I came back to coach at the same high school that I played at and I was there seven years, then I went to Texas for five years and I came back to Gulf Coast and took my dad's place when he retired.
"(In college I) played ball there for him for two years, then I went to Delta State University and played for Dave Ferriss – not the same spelling; everybody always thought I was his son. (Ferriss) was the pitching coach for the Red Sox for a few years and he was a pitcher there for a few years, so I learned a lot of baseball from my dad and him."
Note: Farris retired as head coach of Mississippi Gulf Coast Community College in 2009 after 20 years, just two wins shy of 700.
Favorite memory with dad?
"Well, it's not my favorite, but probably my most pronounced memory. We were out front and he was hitting balls. I was in the fourth grade and actually we had just moved down there, and he hit me a ball – he used to hit them pretty hard, you know, to make me look tougher – and he hit a ball that hit the side of the sidewalk, jumped up, and hit me in the mouth. Knocked my four teeth out."
Favorite thing about the Cape?
"The people here treat us really well. This is a great organization. Mr. (John) Wylde (longtime Wareham president who died in 2009) was a very humble man and told me when he brought me in here he wanted to make the kids better, and I told him that's my goal as a coach – make players better. And then Tom and Sheri (Gay) took over after Mr. Wylde's passing, and you know, same thing, same approach has happened. I feel like if we're making the guys better and teaching them the game, that the wins will take care of themselves."
Approach to coaching on the Cape?
"The Cape's tough. The biggest thing on the Cape is teams that are going to win are going to get two-out hits with runners in scoring position, and not give up two-out hits with runners in scoring position. The philosophy there is to pitch, to play good defense. Last year we had an extraordinary team that could just hit the baseball and hit it with authority and power. The home runs showed that. So I just sat back and let them go. I didn't do a whole lot; they just worked on their swings every day. This year, we're not going to have that, so we've got to be able to work with them more. It's a little different game with wood bats. And it's going to boil down to one or two runs."
Thoughts on fellow coaches?
"All the coaches here are outstanding guys, and there's not a one in this league who wouldn't do anything in the world for you. Same here, I'd do anything in the world for those guys. We've had some battles, but we understand what it's about. It's about these kids, it's not about us."
Favorite place to eat on the Cape?
"There's a bunch of them. I don't know if I've had a bad meal since I came up here. You can probably look at me and tell – but uh, Mark Anthony's, I live right above it so it's real easy for me to go downstairs and say, 'Mark!' Everything in there's really good. I like Minerva's, I like Country Market, I like of them here in Wareham. Lindsay's, Bailey's, Lobster Pot. I hate to leave anybody out because they're all good. Don't know if I've had a bad meal up here."
Favorite CCBL field, excluding home field?
"I like playing Cotuit simply because it's 5 o'clock games and we get home early. Their field's always nice and in good shape. Bourne's done a great job with their field. I remember playing in old Coady (Field), we used to have sun delays there. We could sit 30-40 minutes with the sun before we could play again with it out of the hitter's eyes. There's a lot of nice fields. Harwich has a nice field, Y-D, Orleans' got a nice field. I think all the fields have been upgraded since I started in the league 13 years ago. They're all well taken care of."