League News
06/23/2014 7:28 PM
Article By:
Life is good for Kyle Schwarber.
After being named the best catcher in college baseball in 2013, he's a finalist for this year's Johnny Bench Award.
At the tender age of 21, he has more than $3 million in the bank.
He's pursuing his lifelong dream of playing professional baseball.
And, oh yes, he's tearing the cover off the ball in the Chicago Cubs' farm system, easily justifying the $3.1 million signing bonus he received after the Cubs made him their first-round pick and the first former Cape Cod Baseball League player selected in the MLB draft 2½ weeks ago.
Through Sunday, the former Wareham Gateman (2012-13) has produced an almost unbelievable batting line of .531/.583/1.125 in his first nine games with two pro teams. Among his 17 hits are five home runs, a triple and two doubles, accounting for 12 RBIs.
After signing with the Cubs, Schwarber was sent to short-season Boise in the Northwest League, where he debuted with a bang, slugging four homers in five games. He was hitting .600/.571/1.167 with 10 RBIs when the Cubs decided he needed tougher competition, so they promoted him to Class A Kane County in the Midwest League, where his hot streak continued.
Schwarber, the No. 4 overall pick in the 2014 draft, walked, doubled and homered Friday night in his second Midwest League game to help Kane County defeat visiting Cedar Rapids 6-4. He was 1-for-3 with a run scored and an RBI in his Kane County debut the night before and, after a rainout Saturday, he went 1-for-3 twice as the two teams split a Sunday doubleheader.
Yes, the numbers are impressive, but Schwarber knows they won't last forever.
"Everyone has ups and everyone has downs," he told MiLB.com writer Kelsie Heneghan. "Everyone can have streaks. I realize that there's going to be some point in time when baseball is going to bite you in the butt, and you just have to grind through the game and grind through the at-bats to get results … Good things will happen when you work hard."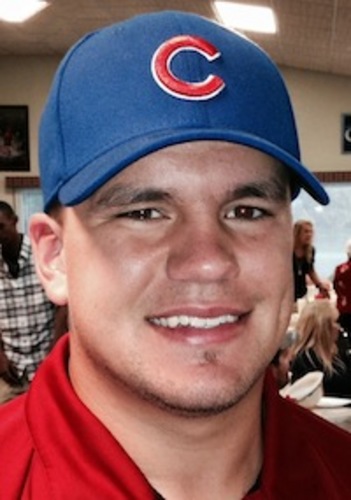 Schwarber has been working hard all his baseball life, and good things have continued to happen to him.
In his senior year at Middletown (Ohio) High School, he led his conference with a .474 batting average, eight home runs and a .643 on-base percentage. He hit .300/.390/.513 with 15 doubles, five triples, eight home runs and 47 RBIs as a freshman at Indiana in 2012, then it was on to Wareham, where he led the Cape League in hits (59), was second in total bases (97), finished third in RBIs (38) and fourth in on-base percentage (.432) as he led the Gatemen to the Cape League championship.
The rising sophomore batted .343/.432/.564 with eight home runs in the regular season and went 8-for-29 in three postseason series – against Falmouth, Bourne and Yarmouth-Dennis. He was named playoffs MVP after belting two homers and driving in three runs in Wareham's title-clinching 8-6 victory over the Red Sox in South Yarmouth.
Schwarber's success continued in his sophomore season at IU, where he batted .366/.456/.647, slugged 18 home runs, collected 54 RBIs and was named the best catcher in the country by Perfect Game and the National Collegiate Baseball Writers Association. Both entities also bestowed first team All-America honors on the 6-foot, 240-pound athlete.
Returning to Wareham in June, Schwarber went 16-for-37 (.432) in nine games before leaving to join his IU teammate Sam Travis (Y-D, 2012) on the touring U.S. Collegiate National Team. His numbers with Team USA continued to impress: .308/.396/.436 with seven doubles, one home run and 16 RBIs in 21 games for the Red, White and Blue.
Ohio native Schwarber's presence in the Midwest League means that friends and family members will now get an opportunity to see him play on a regular basis. He knows the importance of family and said he's looking forward to seeing familiar faces in the stands during games and across the table later at dinner.
"You have to remember where you come from," he said. "I didn't come from the biggest town and you have to work for everything you get there … I was lucky to get around a good group of friends in high school and good teammates in college," he said. "My parents kept me grounded. It was just the way I was raised. You just have to play baseball, the game you love, and stay level."
The versatile Schwarber already has seen service as a catcher, outfielder and designated hitter in his first few weeks of pay-for-play baseball. But it's catching that first earned him national recognition. In fact, he is one of three finalists – all former Cape Leaguers – for this year's Johnny Bench Award, presented to the nation's top college receiver.
Also being considered are Max Pentecost (Bourne, 2013) of Kennesaw State and Will Allen (Bourne, 2012) of Ole Miss, both of whom were also selected in the recent MLB draft. Pentecost was the Toronto Blue Jays' first-round pick (11th overall) and Allen went in the 13th round (400th overall) to the Detroit Tigers.
After the national committee takes a final vote at the College World Series in Omaha, Neb., the winner will be announced Thursday during the 17th annual Greater Wichita Sports Banquet in Wichita, Kan. The three finalists will be flown there for the event and Hall of Fame catcher Bench will personally make the presentation.
Five previous Bench Award winners came from the Cape League – Kelly Shoppach (Harwich, 2000), Baylor, 2001; Ryan Garko (Hyannis, 2001-02), Stanford, 2003; Buster Posey (Y-D, 2006-07), Florida State, 2008; Bryan Holaday (Brewster, 2009), TCU, 2010, and Mike Zunino (Y-D, 2011), Florida, 2012. With this year's three finalists having played in the Cape League, a sixth CCBL winner is assured.