League News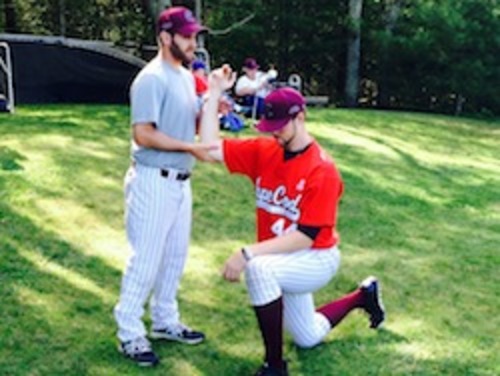 06/24/2014 6:13 PM
Article By:
Strength training has become an integral part of many collegiate baseball programs over the years, as players look for a competitive edge and for new ways to stay healthy as they throw harder for more innings, or hit for more power.
While all the collegiate players coming to the Cape Cod Baseball League look to showcase their talents in front of the scouts and test their merits against other top players, many are also taking advantage of the Cape's proximity to a man known for his baseball training knowledge.
Just more than 70 miles northwest of Wareham's Clem Spillane Field in Hudson, Mass., is Cressey Performance, a training facility started by Eric Cressey, Tony Gentilcore and Peter Dupuis in 2007. While the facility has undergone a few changes, the philosophy remains the same: individualized training designed to keep players healthy and constantly progressing forward. More than 2,200 athletes have trained with Cressey and his crew since they began, more than 100 of whom have some affiliation with the MLB. Kevin Youkilis, Steve Cishek and Curt Schilling are among the many recognizable names who have trained with Cressey over the years.
In this year's MLB First-Year Player Draft, 13 of the 18 college players selected in the first round played in the Cape League, with many more drafted in the later rounds.
Cressey watched 18 players he's trained over the years get drafted in the first weekend. Of the 13 college players, five of them played on the Cape, and another was originally rostered to play for a team. Adam Ravenelle (Vanderbilt, Cotuit 2013), Jake Stinnett (Maryland, Brewster 2013), Spencer Turnbull (Alabama, Wareham 2013), Andrew Chin (Boston College, Chatham 2013), and Tucker Simpson (Chipola CC, Wareham 2013) all competed on the Cape last season. Tyler Beede (Vanderbilt, rostered with Cotuit 2012, '13) rounded out the familiar Cape League names, though he did not play.
"If you take a guy like a Spencer Turnbull or a Tucker Simpson, who were both in Wareham last year, that's not a bad ride to get up here," Cressey said. "It's about an hour, so those guys could come up here pretty regularly."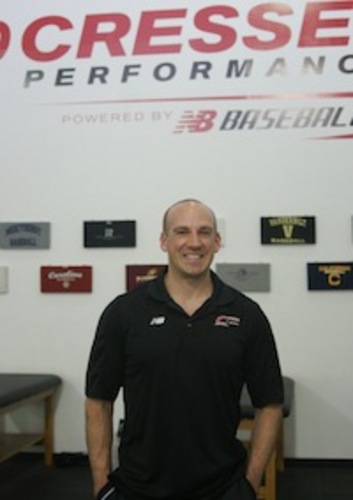 "The Falmouth guys, the Wareham guys, they have it a little easier," he added, "whereas if you're all the way out at the tip of the Cape it's a lot tougher. Those are the guys that may pop in and do a one time consult with us, where we'll kind of do an intensive crash course and go over everything from the assessment side of things to the actual training technique to programming to nutrition to everything imaginable."
And then, he notes, there are the guys who have been with him for years and know the drill. "Some guys are guys who have been with us long enough, like an Adam Ravenelle, I can send him a program and he's going to know right what to do. So it's like a distance-based consulting format. Everyone's a little different."
The connection between CP and the Cape League goes beyond just the players. Strength coaches and assistant coaches over the years have traveled up to Cressey Performance in Hudson, Mass., to participate in the mentorship program, tour the facility, or simply pick Cressley's brain.
And this summer, former CP intern Tim Geromini is bringing a little bit of the elite training knowledge down to the field in Cotuit, where he has taken on the role of strength and conditioning coach for the Kettleers.
"I initially was applying for graduate assistantships and college jobs," Geromini said. "Eric texted me and asked me what I was doing during the summer, and he told me that Coach (Mike) Roberts said that he needed a strength coach for the summer. He put me in touch with coach and we talked for a little while, and he ended up offering me the job."
While the training is different on the Cape in the sense that there is no centralized facility for the players quite like the 15,000-square-foot state-of-the-art facility off-Cape, Geromini has made sure to bring that CP touch to the fields. He knows that creating a balance in the players' workouts is essential, and that the guys are often already so loose that the emphasis is on stability rather than stretching.
"At the field at least before each practice we'll foam roll and warm up," Geromini said. "Most of the time, with these guys specifically, their body parts are very loose, so we try to stay away from stretching them a ton. We're trying to get them activated to go out and play. A lot of it starts with foam rolling."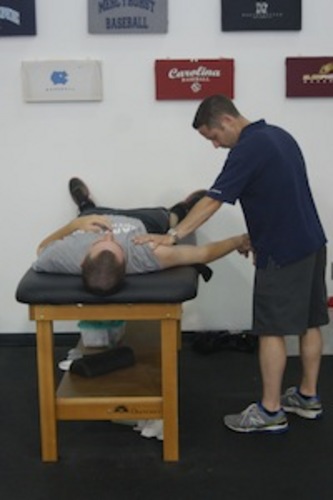 Geromini stays in close touch with Cressey, as the family mentality that CP values is much like the relationships the players on the Cape develop with their host families during their time here. It's a connection that goes beyond the season or training session.
"I try to get out and see the guys during the spring season as much as I can," said Cressey, who went to Vanderbilt this past spring to watch the Commodores take on the Stanford Cardinal in an early-season series. Many of the players on both sides
–
many with Cape League ties
–
had trained with him in the past, and he wanted to be there to support them.
And while it's difficult for Cressey to get to the Cape during the summers, as it's the busy season for CP, he said it's always great to get down to a game.
"I love Cape League games," Cressey said. "There's nothing quite like them. Craig Hansen was a big-time prospect who went to the Red Sox at 21 and I worked with him at the end of his career as he was trying to make a comeback. Last summer, we went down to a game together. Where he used to be the guy on the Cape in the past, he was like, it was pretty cool to just be able to go and watch it. It brings back a lot of memories."
Read more about Ashley's trip to CP on the CCBL Blog.