League News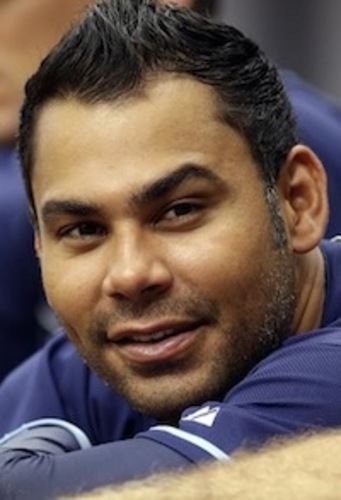 06/24/2014 6:46 PM
Article By:
It took Carlos Pena only seven Triple-A games to prove he's still a major league ballplayer.
Cape Cod Baseball League Hall of Famer Pena (Harwich, 1996; Wareham, 1997; Class of 2003) is back in the big leagues after convincing the Texas Rangers that he may be the answer to their first base-DH woes of late.
He was expected to be playing first base and batting sixth Tuesday night as Texas hosted the Detroit Tigers.
Pena batted .333/.429/.500 in seven games with the Rangers' Triple-A affiliate in Round Rock after agreeing to a minor league contract on June 17. His eight hits included one double and one home run. The free-swinging slugger showed surprising discipline at the plate, drawing four walks while striking out twice.
Pena, a left-handed hitter, finished the 2013 season mired in a slump. He batted just .207/.321/.346 in 89 games between Houston and Kansas City, and he failed to impress the Los Angeles Angels, who gave him a look in spring training, and was released in March.
Texas came calling when injuries cost them their regular first baseman, Prince Fielder, and his successor, Mitch Moreland (Bourne, 2006/07). Brad Snyder could manage only a .167 batting average (5-for-30) in two weeks playing first and he was released Tuesday to make room for Pena on the Rangers' active roster.
Pena, who celebrated his 36th birthday last month, was a member of the 2003 Cape League Hall of Fame class, which also included Cape League President Judy Walden Scarafile. After getting to know the personable Pena on Hall of Fame Weekend that year, Scarafile said she has become one of his biggest fans.
"I am thrilled to hear that Carlos is back in the big leagues," she said when told of his call-up on Tuesday. She and many other Pena fans are hoping he can regain some of the magic that made him a Gold Glove first baseman and the American League's 2007 Comeback Player of the Year.
For trivia buffs, feast on this factoid: Pena becomes the third active major leaguer who enjoys CCBL Hall of Fame status, joining Boston Red Sox relief pitcherAndrew Miller (Chatham, 2004-05; Class of 2012) and Baltimore Orioles catcher Matt Wieters (Orleans, 2006; Class of 2013). Two current big league managers also are CCBL Hall of Famers – Baltimore's Buck Showalter (Hyannis, 1976; Class of 2002) and Chicago White Sox skipper Robin Ventura (Hyannis, 1987; Class of 2001).
Wieters' status carries an asterisk, as he is recovering from recent Tommy John surgery and will miss the rest of the 2014 campaign. Waiting in the wings, though, is St. Louis Cardinals farmhand David Aardsma (Falmouth, 2002; Class of 2010), currently on the disabled list at Triple-A Memphis, where he has been brilliant all season as the Redbirds' closer.