League News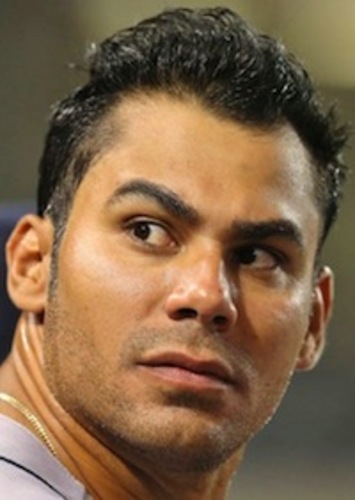 07/20/2014 2:35 PM
Article By: CCBL Public Relations Office
Carlos Pena (Harwich, 1996; Wareham, 1997) isn't quite ready to retire. Instead, the former Gold Glove and Silver Slugger winner has accepted a demotion to the minor leagues.
After being designated for assignment Thursday and clearing waivers Friday, the 36-year-old Cape Cod Baseball League Hall of Famer (Class of 2003) agreed to report to Round Rock, the Texas Rangers' Triple-A Pacific Coast League affiliate. His other options were free agency or retirement.
Pena's demotion comes after a disastrous 18-game stint with the Rangers, during which their former first-round draft choice (1998) hit just .136/.190/.237 in 59 at-bats.
Texas signed Pena as a free agent on June 17, three months after he had been released by the Los Angeles Angels of Anaheim late in spring training. It was a minor league deal, in essence an audition for the 14-year MLB veteran. He passed the test with flying colors and was called up on June 24 after batting .333/.429/.500 with a homer, a double and two RBIs in seven games for the Express, five at first base and two as designated hitter.
The Rangers were, and continue to be, in desperate need of a first basemen after losing both Prince Fielder and Mitch Moreland (Bourne, 2006-07) with season-ending injuries. With Pena's success in Triple-A, it appeared he might be the man, but the aging left-handed slugger with 258 career MLB home runs could manage only eight hits in 63 plate appearances. He had one homer, two RBIs and 11 strikeouts.
So it was back to the drawing board for Texas, which has been battered by injuries and whose record is the worst in the majors.
With the Pena experiment a bust, the Rangers decided to go with converted catcher J.P. Arencibia, 28, as their first baseman. Arencibia struggled earlier this season with Texas, batting just .133 in 20 games. He was removed from the 40-man roster and after clearing waivers he was optioned outright to Round Rock on May 20.
He may have found his batting eye in Triple-A, slashing .279/.320/.542 with 14 home runs and 48 RBIs in 48 games. And he started 20 games at first base, so he's not entirely without experience at the position.
Pena, a native of the Dominican Republic who attended Northeastern University and whose parents live in Massachusetts, has had a difficult two years. Since being released by the Tampa Bay Rays after he hit just .197/.330/.354 with a career-high 182 strikeouts in 2012, he has failed in opportunities with Houston, Kansas City, the Angels and now Texas.
On Dec. 17, 2012, he signed as a free agent with the Astros and played 85 games last season before being released July 31. Kansas City picked him up in late August and he got into four games with the Royals, who granted him free agency on Oct. 31. He finished 2013 with a two-team batting line of .207/.321/.346, eight home runs, 25 RBIs and not much hope for the future.
He stayed in shape during the offseason, though, and on Jan. 28, he signed a minor league contract with the Angels which included an invitation to spring training. He batted .239 (5-for-36) and went homer-less in 20 Cactus League games before being released on March 23, leading to his brief "homecoming" with the Rangers.
Pena has spent most of his major league career in the American League, playing with Texas, Oakland, Detroit, Boston, Houston and Kansas City. In 2006, he was briefly under contract to the New York Yankees, but spent his time in the minors before being released Aug. 16. He signed with Boston the very next day, played in 18 games for the Red Sox and was released Oct. 13.
His lone National League season came with the Chicago Cubs in 2011 in which he hit 27 doubles, a career-high three triples and 28 home runs, and drove in 80 runs.
Pena's best years came with Tampa Bay, where he won his Silver Slugger in 2007, his Gold Glove in 2008 and was named American League Comeback Player of the Year in 2009. During those three seasons, he blasted 116 home runs and accumulated 323 RBIs.
In 2007, Pena established personal bests in several offensive categories, including walks (103), hits (138), runs scored (99), doubles (24), home runs (46) and RBIs (121). He was named to his only American League All-Star team in 2009 and finished that very productive season with 39 homers and 100 RBIs.
Pena held the Tampa Bay franchise record for home runs (163) until earlier this season when another Cape League graduate overtook him. Third baseman Evan Longoria (Chatham, 2005) broke the record April 23 with a shot off the Tropicana Field catwalk for No. 164 of his career. Later, Rays manager Joe Maddon said, "My first thought was to thank Carlos for all the great work he has done for us."