League News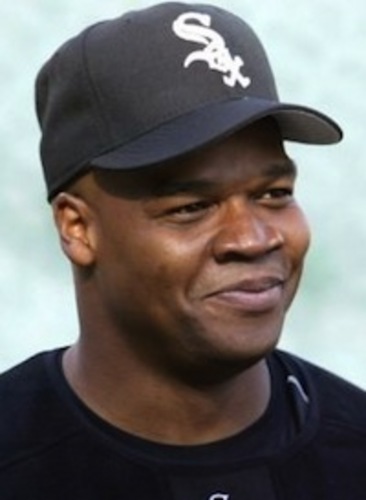 07/28/2014 5:42 PM
Article By: CCBL Public Relations Office
With apologies to Jimmy Dugan, the fictional manager played by Tom Hanks in the 1992 movie "A League of Their Own," there IS crying in baseball.
Frank Thomas (Orleans, 1988) proved it Sunday on an outdoor stage in Cooperstown, N.Y., as he delivered a heartfelt, 18-minute acceptance speech at his induction into the National Baseball Hall of Fame.
Thomas, who becomes the third Cape Cod Baseball League alumnus enshrined in Cooperstown, was inducted with two other players also selected by the Baseball Writers Association of America in their first year of eligibility – pitchers Tom Glavine and Greg Maddux.
The Class of 2014 also included managers Bobby Cox, Tony La Russa and Joe Torre.
"I'm so humbled and honored to be a part of this historic class of first-ballot Hall of Famers," Thomas said. "To share the stage in front of all the legendary men who made the game better for us all. I'm speechless."
When he spoke of his late father, Frank Sr., Thomas wiped away tears. "I know you're watching and smiling from Heaven," Thomas said, struggling to maintain his composure. "Without you, I know 100 percent I wouldn't be here in Cooperstown today."
After pausing for a few seconds, he continued: "Thanks for pushing me and always preaching to me you can be someone special if you really work at it. I took that to heart, Pop. Look at us today."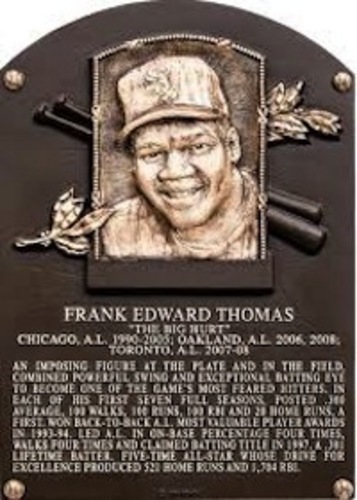 The former Orleans Cardinals and Auburn University slugger, a Georgia native, filled his speech with thanks – for his family, managers, coaches and agents. Although he didn't have time to individually thank every one of his teammates in a 19-year big-league career with the Chicago White Sox, Oakland Athletics and Toronto Blue Jays, he was able to mention dozens of them in a verbal montage of names and nicknames.
Before stepping to the lectern, Thomas listened intently as Baseball Commissioner Bud Selig read the inscription from his Hall of Fame plaque: "An imposing figure at the plate and in the field. Combined powerful swing and exceptional batting eye to become one of the game's most feared hitters. In each of his first seven full seasons, posted a .300 average, 100 walks, 100 runs, 100 RBI and 20 home runs, a first. Won back-to-back AL Most Valuable Player Awards in 1993-94. Led AL in on-base percentage four times, walks four times and claimed batting title in 1997. A .301 lifetime hitter, five-time All-Star whose drive for excellence produced 521 home runs and 1,704 RBI."
As the latest former Cape Leaguer in Cooperstown, Thomas's plaque will join those of his own White Sox teammate Carlton Fisk (Orleans, 1966) and Pittsburgh Pirates third baseman Pie Traynor (Falmouth, 1919). Traynor, like Thomas, is also a member of the Cape League Hall of Fame, having been inducted posthumously with the Class of 2009.
Thomas was a member of the Cape League's inaugural Hall of Fame Class of 2000, which also included former major league stars Mike Flanagan (Falmouth, 1972), Jeff Reardon (Cotuit, 1974-76), Len Merullo (Barnstable, 1935), Thurman Munson (Chatham, 1967) and Mo Vaughn (Wareham, 1987-88).
To conclude his speech Sunday, Thomas gazed out at the many youngsters in the audience and said, "To all you kids out there, just remember one thing from today. There is no shortcut to success. Hard work … dedication … commitment. Stay true to who you are."
Click
here
to watch Thomas' emotional Hall of Fame speech.