League News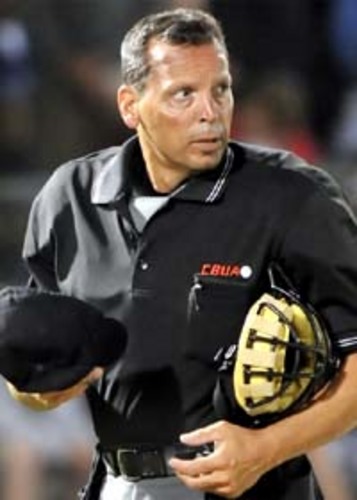 08/05/2014 8:46 AM
Article By: John Garner Jr.
In addition to his summers on the Cape, Fisher has been umpiring college baseball in the spring the past four years, mostly in the Northeast with teams in America East, Big East, Metro Atlantic Athletic Conference, Ivy League and Patriot League.
"When mention of the Cape League is made, it evokes a universal understanding," Fisher said. "Namely the best college summer baseball in the country, located in arguably the best summer vacation destination in the country, comprised of communities that have a unique passion for baseball. Receiving the Curly Clement Umpire Award links me to all the league is in a concrete way and I'm honored by that."
Fisher, who hails from Hudson, N.Y., and resides in Ravena, N.Y., with his wife Diane, is a 1983 graduate of State University of New York College at Oneonta, where he played baseball.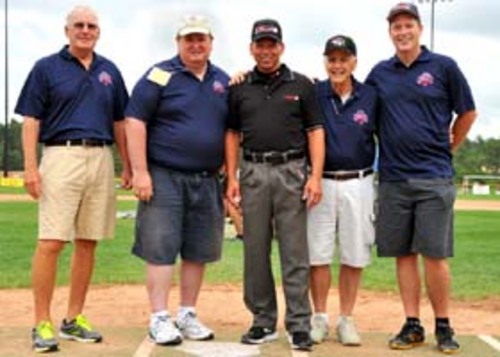 "Bill Fisher is a quality umpire and quality person and that's why he's the 2014 Curly Clement Umpire ofthe Year recipient in the CCBL," said Sol Yas, Cape League senior deputy commissioner/director of officiating. "That's also why Bill was given the honor of being home plate umpire at this year's All-Star game. Always with a smile and pleasant greeting, Bill is an outstanding representative of our officiating group, and truly belongs with past winners of the Clement Award."
Robert "Curly" Clement worked as a Cape League umpire over a span of four decades and was inducted into the CCBL Hall of Fame in 2002. He umpired 16 NCAA Division I Baseball Regionals, several Eastern College Athletic Conference Division I Baseball Championships and two NCAA College World Series.
Affectionately known as the "Candy Man" for his propensity of passing out candy to players, coaches and field managers during on-field disputes, Clement's final Cape League appearance was spent working home plate at the 2000 CCBL All-Star game. He died in 2006 after a long illness.
Previous Clement Award winners include Pat Burns (2013), Joe Caraco (2012), Mark Ottavianelli (2011), Michael Sadowski (2010), John Leeds (2009), Harry Greer (2008), Tim Carey (2007), Peter Hall (2006), the late Jim McNally (2005) and Walter Bentson (2004).