League News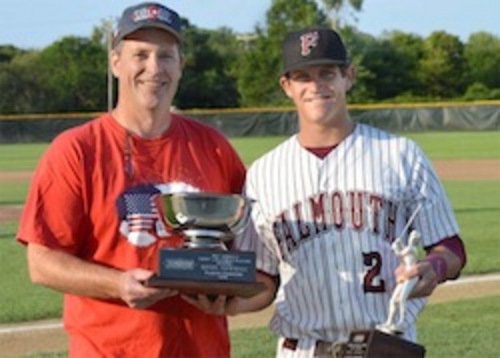 08/08/2014 9:26 AM
Article By:
The Bourne Braves' Richie Martin Jr. struck out swinging at Clem Spillane Field in his second at-bat in the final game of the regular season.
Just moments before at Guv Fuller Field, Kevin Newman had finished his night 2-for-2, batting .380 on the summer for the Falmouth Commodores. The Thurman Munson batting title would be his for a second consecutive season.
The two shortstops were neck and neck all season long, but the 21-year-old made Cape Cod Baseball League history for a second time as the first player ever to win the title two years in a row – last season he was the first freshman ever to win the award.
"It's extremely special," Newman said of winning the award again. "It's great to have some family and friends here to share this moment with me, I just couldn't be happier."
As Newman walked back to the dugout after Deputy Commissioner Mike Carrier presented him with his batting award before the first playoff game Wednesday night, Carrier ushered the Commodore back onto the field once more.
"Don't go anywhere yet," Carrier said. "One more award for Kevin."
That other award was the Pat Sorenti Award as the league MVP.
"It's amazing. I honestly wasn't expecting that so it was a pleasant surprise," said Newman after earning the MVP title. "I didn't think I hit enough extra-base hits, I don't know, but I'll take it."
Both awards were hard-fought for the University of Arizona junior, who lost two weeks of the CCBL season while at Team USA tryouts. In fact, he just barely reached the number of required at bats to be eligible for the batting title with 121.
"Coming back from team USA I really wasn't expecting to win (the batting title)," Newman said. "I wasn't going to put that pressure on myself I just wanted to come here and do as much as I could to help our team win."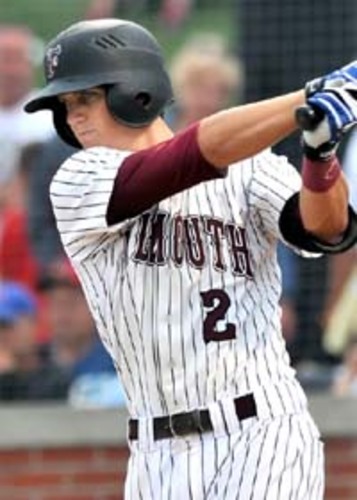 The team has always been Newman's top priority, something Falmouth field manager Jeff Trundy recognizes as his greatest asset as a player.
"He does things the right way," Trundy said. "He appreciates an opportunity, works hard every single day to get better, and he appreciates his teammates, respects his teammates. He's an even better person than he is a player."
"A lot of people don't understand how much your team helps you in an award like this," said Newman, who is the fifth Falmouth player in eight years to win the batting title. "They're just as responsible as I am. As much of an individual award as this is, they helped out a lot."
Trundy described Newman's 2-for-2 performance in the final regular season game as "Newman-esque," and he is thrilled to see the returning shortstop earn MVP honors as well.
"We knew from watching him on a daily basis just how valuable he is," Trundy said. "But I'm please to know that other teams, other managers, other players look at him the way we look at him because without question he's been integral to our success."
Newman hit .375 last summer en route to the batting title improving to this summer's .380, which only solidifies his consistency at the dish. Inconsistent from the 2013 summer was Newman's spot in the lineup. This season he found himself in the unfamiliar three-hole instead of his usual two-spot.
"It was definitely interesting at the beginning of the year. I was seeing a lot of different pitching; I wasn't really used to it." Newman said. "As the year went on I kind of got more comfortable with what I was seeing and how to hit in the three-spot and now I'm pretty used to it."
The Wildcat wears No. 2 as a nod to Derek Jeter, a player whom Trundy said Newman reminds him a lot of both on and off the field.
While the MVP honors may have come as a surprise to Newman and the batting title was a down-to-the wire victory, it is his character as a player that makes these titles so deserved.
"He doesn't want to get away from what works for him," Trundy said. "He has a routine every day that he comes out here and I think that his performance reflects that. His performance, yes it's a reflection of his ability, but it's also a reflection of his personality."
Click
here
to hear what Newman had to say about winning the batting title for a second consecutive year.