League News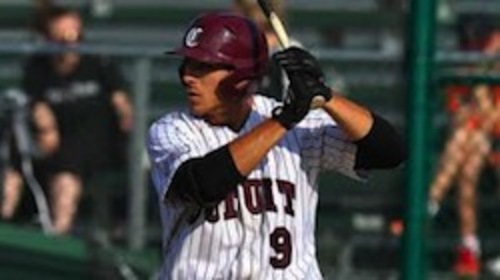 08/08/2014 7:21 PM
Article By:
Kettleers 10, Braves 7: Host Cotuit was determined to extend its 2014 Cape Cod Baseball League campaign and persevered through an early deficit to drop Bourne and send the best-of-three series to a decisive Game 3 in the West semifinals, presented by Rockland Trust.
Game 3 will take place Saturday at 6 p.m. at Doran Park in Bourne.
Brendan Hendriks (San Francisco) was named the player of the game following a spectacular showing at the plate in which he went 3-for-4 with three runs batted in. But it was his seventh inning heroics that left a lasting impression. Coming up with one out and one on with his team down by a run, Hendriks got hold of the first pitch he saw and took it to deep center for a two-run go-ahead home run, which proved to be the game-winner.
Down 7-3, the Kettleers' rally started in the fifth inning when Logan Taylor (Texas A&M) and Jackson Glines (Michigan) led off with back-to-back solo homers to cut the deficit to two. Taylor finished 2-for-4 with three runs scored and two RBIs while the home run was Glines' only hit.
Cotuit earned the win through the use of seven different pitchers. It was the late inning pitchers who were finally able to silence the Braves' bats over the final five innings. Jackson McClelland (Pepperdine) started off the shutdown pitching, throwing the fifth and sixth innings and allowing just one hit to go with a strikeout.
Next was Austin Sexton (Mississippi) who pitched a perfect seventh before receiving the necessary run support to come away with the win. Adam Whitt (Nevada Reno) came on for the two-inning save and yielded just one hit and struck out one.
The Braves had some notable performances on offense with Richard Martin Jr. (Florida) and Blake Davey (Connecticut) each going 2-for-5 with a home run. Blake Allemand (Texas A&M) and Vimael Machin (VCU) each chipped in a pair of hits.