League News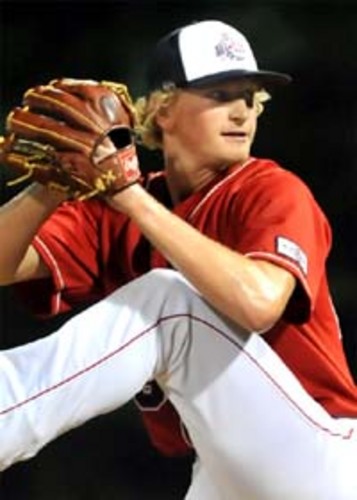 08/13/2014 9:13 PM
Article By:
Phil Bickford (Cal St. – Fullerton) is the recipient of one of the Cape Cod Baseball League's most prestigious honors, the Robert A. McNeece Award, given to Most Outstanding Pro Prospect. This award, voted on every year by major league scouts, is given to the player most ready for success at the professional level.
The award is fitting for the former 10th overall pick by the Toronto Blue Jays in the 2013 MLB First-Year Player Draft. "It's an honor." said Bickford, of the Y-D Red Sox. "I feel like out here on the Cape, that's a pretty good award to get. Just to actually get it and have it right there in my hands was an awesome feeling."
It's been a standout summer for Bickford, who was named an East Division All-Star, led the league with eight saves, and sported a 2.25 ERA and 1.10 WHIP. Bickford had the least amount of innings pitched among the top 20 league leaders in strikeouts, with 33 Ks in 20 innings for an superb 14.85 strikeouts per nine innings pitched ratio.
Thus far, Bickford has been one of the most valuable players in the postseason. In 4 1/3 scoreless innings pitched in the playoffs, Bickford has allowed just two hits and struck out eight on his way to two saves. In the final game of the East Division championship, Bickford came into a 1-0 game in the seventh and recorded an eight-out save with six strikeouts to preserve the victory and send Y-D to the Cape League championship series.
"Every outing I'm just going out there, not taking anything for granted, and trying to give the Y-D Red Sox a chance to win," Bickford said. "We're all out here to get better. That's the goal."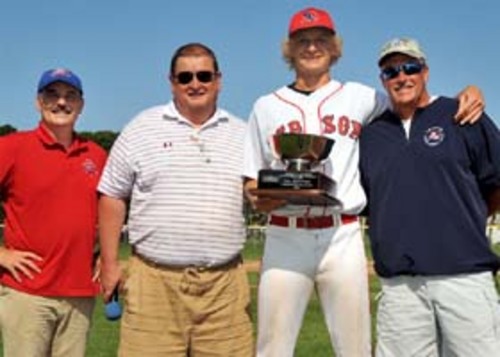 Bickford was one of nation's top first-year players in the country this spring. He was named the Big West Conference Freshman Pitcher of the Year and chosen for the Louisville Slugger Freshman All-American Team. He went 6-3 with a 2.13 ERA for the Titans, and struck out 74 opponents in 76 innings for a team-leading 8.76 strikeouts per nine innings ratio. Bockford dominated his conference opponents, giving up just four runs all season, and Big West batters had a .254 average when he was on the mound.
The 6-foot-4-inch righty brings a lot more than just statistics to the table; the measurables more than show why he's a former and likely future first-rounder. With a big power frame, Bickford puts excellent velocity on his pitches. Even in high school, he was able to get his pitches up into the 90s. This summer, he has consistently reached the 90s with the ability to put great movement on all of his pitches.
Bickford takes all of his success in stride.
"It's very humbling," he said. It's a great feeling. Hard work pays off."
Former Outstanding Pro Prospect winners include Max Pentecost (Bourne, 2013); Sean Manaea (Hyannis, 2012); Victor Roache (Cotuit, 2011); Matt Wieters (Orleans, 2006); and Andrew Miller (Chatham, 2004-05; Pro Prospect, 2005).