League News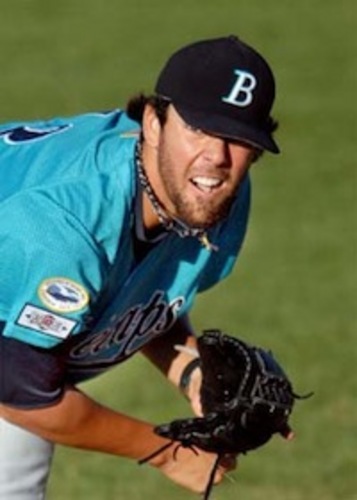 08/27/2014 2:26 PM
Article By: CCBL Public Relations Office
Two-season Cape Cod Baseball League veteran Anthony Ranaudo (Y-D, 2008; Brewster, 2010) is the International League's Most Valuable Pitcher and one of six former CCBL players named to the league's 2014 postseason All-Star team.
The 6-foot-7 right-hander has won 14 games and fashioned a 2.61 ERA over 24 starts for Boston's Triple-A farm club, the Pawtucket Red Sox. He also owns two wins for Boston after beating the New York Yankees and the Cincinnati Reds in his first two MLB starts, making him the only pitcher in professional baseball to own 16 victories this season.
Ranaudo is currently second in the league in ERA to Buffalo's Liam Hendriks, who was recently traded and is now pitching in the Pacific Coast League. Hendriks does not have enough IL innings to qualify for the ERA title. Opposing batters are hitting just .223 against Ranaudo, the lowest average against any International League starter.
Joining Ranaudo as postseason All-Stars are two Charlotte (Chicago White Sox) players – catcher Josh Phegley (Wareham, 2007) and first baseman Andy Wilkins (Y-D, 2008) – plus Syracuse (Washington Nationals) shortstop Emmanuel Burriss (Orleans, 2005); Buffalo (Toronto Blue Jays) reliever Bobby Korecky (Y-D, 2001); and Gwinnett (Atlanta Braves) utility player Phil Gosselin (Harwich, 2009).
On July 5, 2013, Phegley became the 1,000th Cape Leaguer to compete in the major leagues, earning the nickname "Mr. 1,000." Since then, the all-time CCBL-MLB list has grown to 1,073 names.
The Triple-A Pacific Coast League also has announced its 2014 postseason All-Star team, which features four former Cape Leaguers. They are Reno (Arizona Diamondbacks) shortstop Nick Ahmed (Bourne, 2010); Sacramento (Oakland Athletics) outfielder Shane Peterson (Hyannis, 2007); Salt Lake (Los Angeles Angels) designated hitter Brennan Boesch (Brewster, 2005); and Iowa (Chicago Cubs) relief pitcher Blake Parker (Bourne, 2005).