League News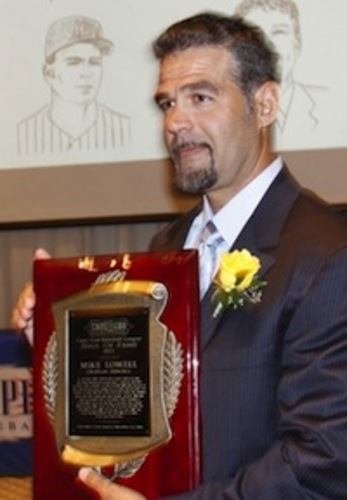 01/09/2015 5:46 PM
Article By:
Cape Cod Baseball League Hall of Famer Mike Lowell (Class of 2011) is one of three CCBL stars from the early 1990s who will be eligible for National Baseball Hall of Fame consideration for the first time in 2016.
But unlike Frank Thomas (Orleans, 1988) in 2014 and Craig Biggio (Yarmouth-Dennis, 1986) this year, Lowell (Chatham, 1994), Russ Ortiz (Yarmouth-Dennis, 1994) and Billy Wagner (Brewster, 1992) all are long shots at best to make it to Cooperstown.
Non-Cape Leaguers who qualify for the 2016 ballot are Garret Anderson, Brad Ausmus, Luis Castillo, Jim Edmonds, Troy Glaus, Ken Griffey Jr., Mark Grudzielanek, Jose Guillen, Mike Hampton, Trevor Hoffman, Jason Kendall, Chan Ho Park and Mike Sweeney. Like Lowell, Ortiz and Wagner, each played at least 10 seasons in the major leagues and has been retired for five years.
Lowell is a four-time All-Star and 2007 World Series Most Valuable Player who played 13 seasons with the New York Yankees, Florida Marlins and Boston Red Sox. He won the 2003 Silver Slugger award and 2005 Gold Glove award at third base. He reached the 20-home run mark six times, drove in 100 or more runs three times and was a member of World Series-winning teams with the Marlins in 2003 and the Red Sox in 2007. Lowell was enshrined in the CCBL Hall of Fame with the Class of 2011.
Ortiz pitched for the San Francisco Giants, Atlanta Braves, Arizona Diamondbacks, Baltimore Orioles, Houston Astros and Los Angeles Dodgers over 12 big league seasons, earning All-Star Game selection in 2003. Russ led the National League with 21 wins in 2003 and reached the 15-win mark four times.
Seven-time All-Star, Wagner pitched 16 seasons for the Astros, Philadelphia Phillies, New York Mets, Red Sox and Braves. He saved 422 games – second all-time among left-handers and fifth overall – en route to a 47-40 career record and a 2.31 ERA. Billy's career WHIP of 0.998 would rank No. 2 among all pitchers if he had enough innings to qualify, but he finished 97 short of the 1,000-inning threshold.
Other Cape League grads on the ballot next year will be Jeff Bagwell (Chatham, 1987-88), who received votes on 55.7 percent of the ballots cast by members of the Baseball Writers Association of America this year; Jeff Kent (Cotuit, 1988), whose name was checked on 14 percent of the ballots, and Nomar Garciaparra (Orleans, 1993), another CCBL Hall of Famer, named by 5.5 percent of the voting writers.
Falling out of contention were Garciaparra's Cape League teammate, Aaron Boone (Orleans, 1993); Darin Erstad (Falmouth, 1993-94); and Rich Aurilia (Hyannis, 1991), none of whom received enough votes to appear on future ballots.
Biggio's Hall of Fame election earlier this week brought to four the number of Cape League graduates in Cooperstown. The Long Island native will join Thomas, Carlton Fisk (Orleans, 1966) and Pie Traynor (Falmouth, 1919) among baseball's immortals when he is inducted on Sunday, July 26, along with pitchers Randy Johnson, Pedro Martinez and John Smoltz.