League News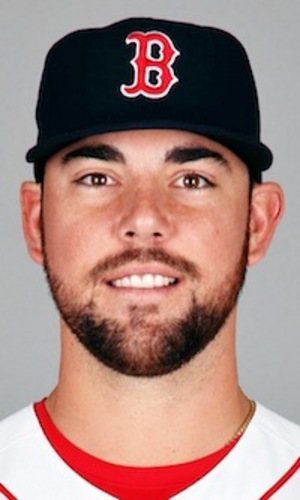 01/29/2015 9:32 AM
Article By: CCBL Public Relations Office
Anthony Ranaudo is now a Texas Ranger.
On Tuesday, the Boston Red Sox traded the 6-foot-7, 230-pound right-hander, pride of LSU and the 2010 Brewster Whitecaps, to Texas for another 25-year-old pitcher, left-hander Robbie Ross Jr.
Rangers executive vice president of communications John Blake first announced the deal on Twitter and the Red Sox followed with a formal announcement soon after.
Ranaudo made his big league debut with Boston in 2014 to disappointing results. In seven Boston starts, he finished 4-3 with a 4.81 ERA while averaging 3.4 strikeouts and 3.7 walks per nine innings.
He fared significantly better at Triple-A Pawtucket in both 2013 and 2014, totaling 168 1/3 innings of 2.67 ERA ball while averaging 7.1 strikeouts and 3.3 walks per nine innings. He was the 2014 International League Pitcher of the Year.
Ranaudo could compete for a spot in the Rangers' rotation after Texas's injury-riddled 2014 season, but he may be viewed instead as a bullpen candidate.
Texas's current starters include Yu Darvish, Derek Holland, Yovani Gallardo, Colby Lewis and either Ross Detwiler (Falmouth, 2006) or Nick Martinez (Falmouth, 2011).
Ranaudo entered his junior season at LSU as a projected first-round draft pick after posting a 12-3 record with 159 strikeouts and a 3.04 ERA in 124 1/3 innings, leading the Southeastern Conference and finishing third in the country in strikeouts and fifth in victories.
He won the decisive third game of the 2009 College World Series championship series against Texas, working the first 5 1/3 innings as the Tigers prevailed 11-4.
Ranaudo was nearly perfect at Brewster in the summer of 2010 after being drafted by the Red Sox in the supplemental first round with the 39th overall pick, a lower-than-expected position due to an elbow injury that cost him five weeks of college action.
He balked at Boston's initial contract offer and was advised by his agent, Scott Boras, to pitch on the Cape, where he could prove he was fully recovered from the injury.
He did just that, working 29 2/3 scoreless innings over five starts for the Whitecaps. He earned three wins and his strikeouts-to-walks ratio was a brilliant 31-8. The Red Sox liked what they saw and raised their offer to $2 million as the Aug. 16 signing deadline approached. He finally agreed to a $2.55 million signing bonus at virtually the 11th hour.
Ross was the Rangers' second-round draft pick in 2009 out of Lexington Christian Academy in Lexington, Ky. The 5-foot-11, 215-pound southpaw struggled when he moved from the bullpen to the rotation last year after having excelled as a reliever the previous two seasons when he pitched 127 1/3 innings with a 2.62 ERA and averaged 7.4 strikeouts and 3.0 walks per nine innings.
Ross has a 53.8 percent career ground-ball rate, including a 62.4 percent mark in his rookie year, 2012. He is one of those unusual left-handers who fares better against right-handed hitters. When he was at his best from 2012-13, he held right-handers to a meager .223/.292/.282 batting line but was touched for a .276/.347/.425 line by fellow lefties.