League News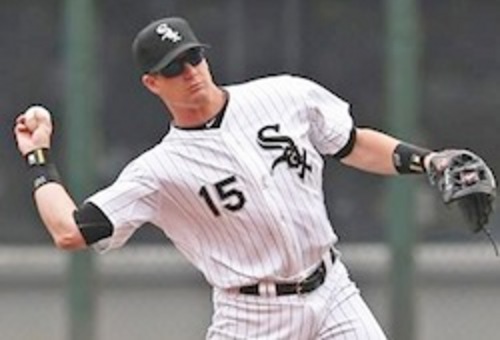 02/01/2015 9:23 AM
Article By: CCBL Public Relations Office
Thomas Wolfe was wrong. You can go home again.
Gordon Beckham (Y-D, 2007) proved it Wednesday when he returned to Chicago, the city he called home for most of the past six seasons, to sign a one-year, $2 million contract with the White Sox, the team that made him a first-round draft pick in 2008.
Traded away this past Aug. 21, Beckham spent the final five weeks of the 2014 season with the Los Angeles Angels. He played in 26 games for the Halos, seeing action at third base, second base and even shortstop, his college position at the University of Georgia and in the Cape Cod Baseball League.
Beckham was hitting .221/.263/.336 with seven home runs and 36 RBIs in 101 games when he left Chicago. In 26 games with the Angels, he batted .268/.328/.429, a respectable showing but not impressive enough for the Angels to offer him another season in Anaheim.
The 29-year-old infielder seems destined for a utility role this time around.
"Adding Gordon improves the depth and flexibility of our roster," White Sox general manager Rick Hahn said in a statement. "We are thrilled to have him back ... Gordon brings the ability to play solid defense at multiple positions or play on an everyday basis should the need arise. This also gives Robin the ability to play matchups more effectively when setting the lineup."
Hahn was referring to manager Robin Ventura (Hyannis, 1987), who may take advantage of Beckham's proven ability to hit left-handers (.293/.349/.431 last season against .203/.242/.318 vs. righties) by platooning him at third base with another 2007 Cape League star, Conor Gillaspie, also a first-round pick in the 2008 draft. Ex-Wichita State Shocker Gillaspie was a .300 hitter against right-handers in 2014 (.300/.360/.444); against southpaws his line read .221/.248/.317.
Falmouth third-baseman Gillaspie batted .345 to win the '07 Cape League batting crown and Most Valuable Player honors, while Y-D's Beckham hit nine home runs to lead the league in that department. Beckham succeeded Buster Posey at shortstop while Posey, returning for his second season with the Red Sox, was being converted to catcher.
Sharing third base with Gillaspie won't be an option for Beckham if neither of the young White Sox second base prospects – Micah Johnson (Cotuit, 2011) or Carlos Sanchez – proves major league ready during spring training. In that case, Beckham likely would move across the diamond to become the everyday player at that position once again.
To make room on their active roster for Beckham, the White Sox designated outfielder Dayan Viciedo for assignment. The 25-year-old hit .231 with 21 home runs and 58 RBIs last year, but he's neither a good fielder nor a good baserunner, and his limited offensive ability was not sufficient to overcome his other weaknesses.
"I really thought that was it," said Beckham of being traded. "It was a little bit sad for me because of my willingness and want to do well in Chicago, so this is kind of an exciting moment for me – that I get to come back and play with them and turn the tide on that."
After a promising rookie season in 2009, Beckham showed flashes of brilliant defense, but could never manage to find consistency at the plate. The trend continued with the Angels and he finished 2014 hitting .226 with 27 doubles, nine home runs, 44 RBIs and 53 runs scored in 127 games while making $4,175,000. When the Angels did not tender a contract offer, he became a free agent.
After just a few months away, Beckham said he thinks he is in "a much better place" than he was when he was traded in August. Hahn said it might help if Beckham feels less internal pressure in his second stint.
"Getting away was good for me in general," Beckham said. "I needed some time to reboot (and) work on my game. That's something I feel I did in Anaheim."