League News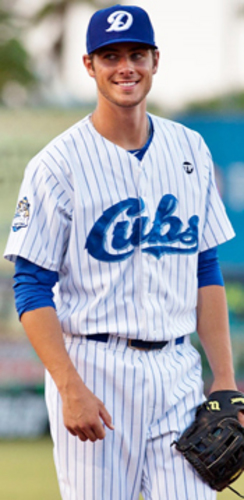 03/22/2015 7:49 AM
Article By: CCBL Public Relations Office
Chicago Cubs super prospect Kris Bryant (Chatham, 2011) hit his seventh and eighth home runs of the spring Saturday, finishing 2-for-2 with a walk and leading the Cubs to a 12-10 victory over the Seattle Mariners before an overflow crowd of 15,323 at Sloan Park in Mesa, Ariz.
It was the first game at third base for Bryant since the rookie was relegated to a designated hitter role because of fatigue in his right throwing shoulder.
Bryant smashed a two-run homer off of Felix Hernandez in the first inning, then went deep with two runners aboard against Kevin Correia in the fourth. The Cubs' top-rated prospect has eight official Cactus League home runs (plus another one in a B-game) along with 14 RBIs and a .480 average (12-for-25). No other Cactus League player had more than three homers entering Saturday's action.
The 6-foot-5, 215-pound University of San Diego product may be forcing the Cubs' hand with his hot spring. Although no official announcement has been made, the club had indicated that Bryant would start the season at Triple-A Iowa of the Pacific Coast League. But pressure is mounting on Cubs' management to name him their Opening Day third baseman.
One of Bryant's biggest boosters is 12-time All-Star, 2004 World Series MVP and last year's player-coach with the Iowa Cubs, Manny Ramirez, who has played with and against many of the game's all-time greats. Ramirez believes Bryant, at age 22, has the potential to be the best of the bunch. "He's unbelievable," Ramirez told USA Today last fall.
Bryant's booming bat is the reason the Cubs invested their largest signing bonus in history - nearly $6.71 million - in 2013, and the reason he was selected as USA Today's 2014 Minor League Player of the Year after batting .325/.438/.661, driving in 110 runs and hitting 43 homers, more than any other player in baseball.
Asked what makes Bryant exceptional, Ramirez replied, "He's 6-5, bro. He stays inside on his swing all the time. He's so tall that when he misses a ball, he can still hit it out. The thing I like about him, he knows how to turn the page. If he misses an at-bat, he forgets about it and moves on to the next one. A lot of players can't do it, but he knows how to do it at such a young age."
The Mariners were without their own slugging third baseman on Saturday.
Kyle Seager (Chatham, 2007-08) was scratched from the lineup due to mild tightness in his side. Seattle manager Lloyd McClendon said the move was largely precautionary and not a big issue.
The Mariners are taking no chances with their $100 million man, who is expected to hit in the middle of the lineup this season after smashing 25 homers and collecting 96 RBIs in 2014.