League News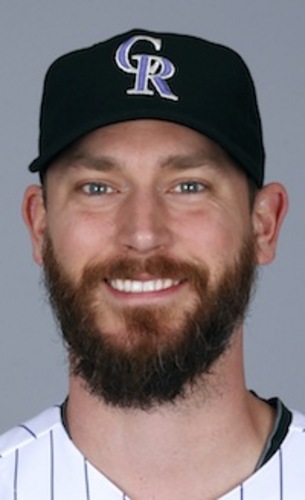 04/01/2015 4:16 PM
Article By: CCBL Public Relations Office
Colorado Rockies reliever John Axford (Hyannis, 2002; Cotuit, 2003) left the team's spring camp in Scottsdale, Ariz., last Wednesday in "sheer panic" after learning that his 2-year-old son, Jameson, had been bitten by a rattlesnake, according to published reports.
The Denver Post said that following Wednesday's game, Axford received a call from a Phoenix-area hospital, notifying him that his son had been bitten twice on the foot by a rattlesnake. Axford said he was in "sheer panic" upon hearing the news. "Things got very bad, very quickly," he said.
Jameson was given anti-venom medication and was reported to be in stable condition. A second round of treatment was needed a few days later due to the excessive amount of venom found. Doctors believe they were able to save his foot, though it's possible a toe may require amputation.
It is believed the child stepped on a baby rattlesnake while walking in the back yard of the family's rented house north of Scottsdale.
Axford returned to camp briefly Tuesday to throw a bullpen session, but the 6-foot-5, 220-pound right-hander said he doesn't know when he'll be able to rejoin the club permanently. He plans to stay with his family for as long as necessary.
"The last thing I want to do is think about baseball," Axford said. "We're not sure what is happening. We're trying to take things step by step."
Axford said he is grateful for the support his family has received from friends and fans, and he urged everyone to think positively. "Any positive thoughts people have for (Jameson) would definitely be well-received," he said.
There's been no official announcement, but it was expected that Axford would be a member of the Rockies' bullpen corps coming out of camp. He signed a minor-league deal in February, but was added to the club's 40-man roster last month and guaranteed a $2.6 million salary as part of the bullpen. Axford is still expected to make the team, but his son's current medical issues cloud the situation.
Axford, who marks his 32nd birthday today, is a native of Simcoe, Ontario. He played college baseball at Notre Dame before signing with the New York Yankees in 2006 as an amateur free agent. After being released by the Yankees that December, he was picked up by the Milwaukee Brewers, with whom he made his major league debut on Sept. 15, 2009, against the Chicago Cubs.
The former closer spent last season with the Cleveland Indians and Pittsburgh Pirates, posting a 3.95 ERA with 63 strikeouts across 54 2/3 total innings.
In six MLB seasons with Milwaukee, St. Louis, Cleveland and Pittsburgh, he has compiled a 24-23 record with a 3.40 ERA and 116 saves, 91 of which came as the Brewers' closer in 2011 (46) and 2012 (35).
Axford's Cape League performances were not promising. As a Notre Dame freshman, he was 0-3 with a 7.17 ERA for the 2002 Hyannis Mets and as a sophomore he was 1-0 with a 9.00 ERA for the Cotuit Kettleers in 2003.
Thanks to Chris Cwik, a writer for Big League Stew on Yahoo! Sports, who contributed to this report. Email him at [email protected] or follow him on Twitter @Chris Cwik.