League News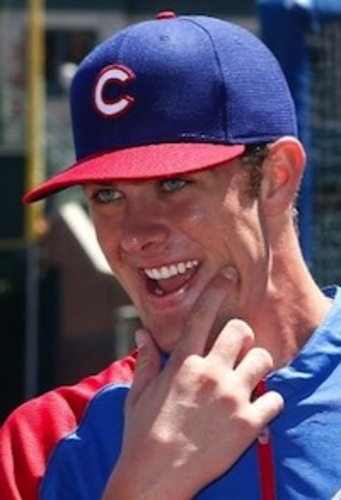 04/21/2015 5:28 PM
Article By:
Two weeks into the Major League Baseball season, 11 former Cape Cod Baseball Leaguers have made their MLB debuts, including prized Chicago Cubs prospect Kris Bryant (Chatham, 2011), who bounced back nicely after going hitless in his first MLB start. The former Angler was batting .429 after four games in the big leagues.
Bryant, forced to open the season in the minors so the Cubs could gain an extra year of control, was called up on Friday from Triple-A Iowa, where he hit .321/.364/.679 with three home runs and 10 RBIs in seven games. He replaced the injured Mike Olt (Orleans, 2008-09) at third base as the Cubs faced the San Diego Padres at Wrigley Field.
Friday was the 13th day of the season, so Bryant can accumulate no more than 171 days of major league service in 2015, one shy of the 172 that count as a year. He could have been eligible for free agency after the 2020 season had he been on the big league roster earlier.
Manager Joe Maddon showed supreme confidence in the 23-year-old rookie, inserting him in the cleanup slot against James Shields. But the 2014 Minor League Player of the Year, after getting just three hours sleep Thursday night, went 0-for-4, struck out three times and grounded out in his final at-bat.
He swung through three Shields pitches in the first inning. Leading off the fourth, he fell behind 0-and-2, worked the count full and then swung over a changeup for strikeout No. 2. And in the fifth, after the Cubs had scored twice, he fanned on a cutter, leaving two runners stranded. With runners on first and second, he grounded into an inning-ending force out in the seventh.
Defensively, Bryant showed no rookie jitters. He handled Derek Norris' sharp grounder cleanly in the first inning and started a double play. In the fifth, he made a diving catch on a Norris line drive.
Bryant, who had topped all MLB players with nine spring training home runs after leading the minors with 43 dingers last season, was philosophical after the game. "I'll keep on keeping on and come out here tomorrow ready to go," he told reporters. And that's exactly what he did.
On Saturday, he got his first major league hit and reached base five times. He finished 2-for-3 with three walks. His first hit was a bloop single in the bottom of the fifth inning, which brought home a run, and he added an infield single in the 11th. On Sunday, he doubled in the fifth off Padres starter Andrew Cashner for his first extra-base hit and went on to finish that game 1-for-3. He also was hit by a pitch and wrapped up his first big league series 3-for-10 with an RBI, three walks and four strikeouts.
Then on Monday, as the Cubs visited Pittsburgh, Bryant really showed what he can do. He led the Cubs to a 5-2 victory by going 3-for-4. The 6-foot-5, 215-pound rookie walked once, scored a run and drove in three with a single and a double, both coming with two outs. After four MLB games, Bryant has settled in comfortably as the Cubs' new cleanup hitter with a batting line of .429/.579/.571.