League News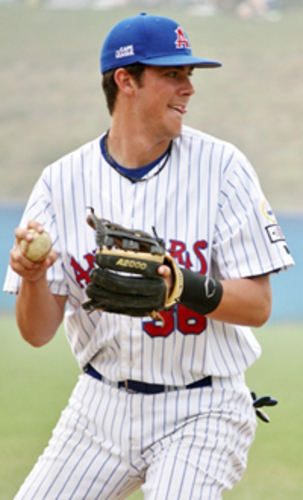 05/11/2015 9:00 PM
Article By: CCBL Public Relations Office
It took 21 games, but the wait is finally over for Chicago Cubs rookie Kris Bryant (Chatham, 2011).
Bryant blasted a 389-foot bomb off right-hander Kyle Lohse on Saturday night in the third inning of a 12-4 loss to the Brewers in Milwaukee. It was his first major league home run and his only hit in a 1-for-4 effort.
The three-run shot over the wall in left-center gave the Cubs a short-lived 3-2 lead. It came off a first-pitch slider from the veteran Lohse, a 29th-round draft selection of the Cubs in 1996.
"It's kind of been awhile, but I did it," Bryant said. "It's a cool feeling and we had fun with it. It would have been nice to get a win out of it, but it will still be a day I'll be able to remember."
As Bryant circled the bases, the Brewers vacated the dugout, players and coaches alike hiding out in the adjacent clubhouse. After touching home plate, the rookie turned toward the visiting dugout and saw – absolutely no one. "Nobody was in there," he said. "That was pretty funny … they were all waiting over there by the door, kind of like a mosh pit, punching me and all that kind of stuff," he said. "That was fun."
Manager Joe Maddon said first baseman Anthony Rizzo came up with the idea of clearing the dugout. "This is the perfect ballpark for that with the clubhouse being so close," Maddon said. "So, we were all clustered in there … The funny part is that K.B. came after us to be congratulated. He found us (so he could) be congratulated. I thought that was pretty funny."
Everybody had been waiting for Bryant to go deep since he was promoted in mid-April from Triple-A Iowa, where he had homered three times in seven games. The 6-foot-5, 215-pound slugger had led minor league baseball last season with 43 homers and he smashed nine home runs in spring training to top all players. But the rookie had not homered in 72 big-league at-bats entering Saturday's game. He grounded out to third base in the first inning before ending his home run drought in the third.
"That ball was out off the plate, but it was up," Lohse said. "He's got a big, long swing, and he was able to reach out there and get it."

Bryant, who had starred at the University of San Diego, made his MLB debut on April 17 against the San Diego Padres, going 0-for-4 while striking out three times. But after five games he was hitting .444 with three doubles and six RBIs and appeared to be on his way to a sensational rookie season.
Lately, though, both Bryant and the Cubs have been struggling. The Cubs have won just three of their last 11 games while falling to 15-15, 6½ games behind the NL Central-leading St. Louis Cardinals. During that stretch, Bryant has seen his batting average plummet. Since April 29, he has managed just six hits in 40 at-bats – a .150 average – while striking out 23 times.

After going 0-for-5 on Sunday as the Cubs fell to the Brewers 3-2, Bryant was batting .259/.394/.370 on the season, with six doubles and 17 RBIs. And he had accumulated nearly twice as many strikeouts (33) as walks (17).

Click
here
to watch Bryant's first major league homer.