League News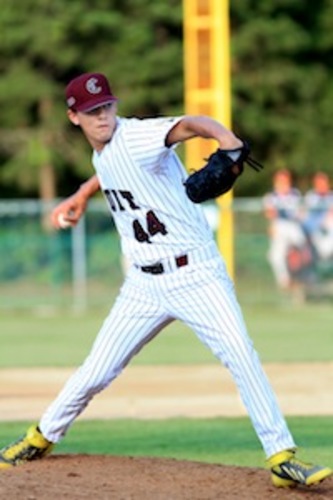 06/01/2015 5:59 PM
Article By: Jacob Tobey
The Cotuit Kettleers are back with a balance of new and old faces this summer as the Cape Cod Baseball League season nears.
Returning pitcher Nick Elcholtz (Alabama) enjoyed a solid 2014 campaign with the Kettleers, who finished the regular season fourth in the West Division but made it to the West finals before falling to Falmouth. Also back for a second summer with Cotuit are Mississippi State right-hander Austin Sexton and Nevada right-handed closer Adam Whitt, who returns as the Kettleers' most valuable pitcher and league all-star.
Expectations are high for newcomer Keenan Innis (Georgia Tech), whose father Jeff played for the league in 1981 and 1982. Only time will tell if the younger Innis can follow in the footsteps of his father, who was the Kettleers' MVP and later went on to spend his entire MLB pitching career with the New York Mets.
The reigning West champion Falmouth Commodores also boast a balanced roster of returning and new players. Among those familiar faces are outfielder Boomer White (Texas A&M), who batted .289 with 14 runs, four doubles, a triple, nine RBIs and two stolen bases in 26 games with the Commodores. After amassing 143 hits and 67 runs in two years at TCU, the left fielder announced his transfer to Texas A&M last summer and had to sit out this season.
There are high hopes for the new Falmouth catcher Evan Skoug (TCU), who brings a powerful swing and defensive prowess to a Falmouth team that believes he'll be a strong asset behind the plate.
The Bourne Braves, who finished the 2014 regular season with the Cape League's best record, have a number of returning players on the roster. Back for a second summer are catchers Jason Delay(Vanderbilt) and Brian Serven (Arizona State). Bourne's projected pitching lineup consists of two returning sophomores: Louisville southpaw Josh Rogers, part of the 2014 Louisville Regional All-Tournament Team, along with his Cardinals teammate, Jacob Sparger, who went 2-1 with a 3.20 ERA and 26 strikeouts in 45 innings pitched for Louisville last season.
This season, the Hyannis Harbor Hawks find themselves with a young squad and will look to their two rising seniors to lead the way. Ryan Hendrix out of Cypress, Texas, appears to be a promising leader as a 6-3 right-handed pitcher. This season with Texas A&M, he went 3-0 with fives saves and an impeccable 0.42 ERA. Alongside him will be 6-4 righty Nolan Blackwood of Southaven, Miss. Blackwood set the University of Memphis program record as a freshman with 31 single-season appearances. The Hawks' young roster also includes Corey Bird, who led Marshall in batting average, stolen bases and hits as a freshman.
Andrew Lang, general manager of the Wareham Gatemen, said last year's cellar-dwelling, injury-ravaged summer is a distant memory. Lang says his 2015 squad offers a good balance of pitching, defense and hitting. Freshman outfielder Logan Sowers (Indiana) looks to make an impact for the Gatemen after being named Indiana's Mr. Baseball last year. He is a threat both behind the plate and in the field, batting .257 with 56 hits and 36 RBIs, and sporting a fielding percentage of .978 in his first season with the Hoosiers. Hopes are also running high for Wareham's returning players, including the untapped potential of lefty pitcher Ryan Williamson (N.C. State).