League News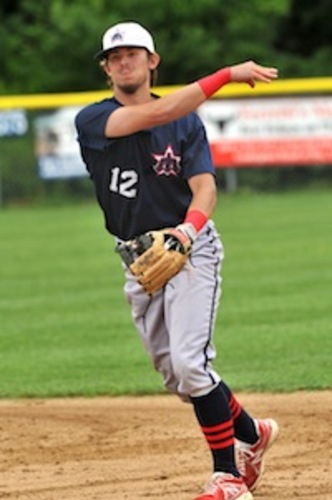 06/03/2015 6:56 PM
Article By: Tori Cotnoir
The Cape Cod Baseball League's East Division teams will feature both new and familiar faces for the 2015 season, which officially kicks off on Tuesday.
After losing in the first round of the Cape Cod Baseball League playoffs to the Harwich Mariners in 2014, the Brewster Whitecaps are hoping for better this summer. The team has only one returning player, right-handed pitcher Pat Ruotolo (UConn) of Peabody, who posted a 2.28 overall ERA in 27 2/3 innings of relief last summer.
Brewster welcomes a new field manager Jamie Shevchik, one of the most successful field managers in the New England Collegiate Baseball League. Shevchik's roster is made up of almost all new players, including sophomore and 2015 Preseason All-Southeastern Conference Team member, infielder Nick Senzel (Tennessee), who is batting .325 with 28 RBIs in 2015 for the Volunteers.
Chatham Anglers longtime field manager John Schiffner finished the regular season with a losing record but missed the playoffs by a mere game. The team is returning at least four players from last summer, including right-handed pitcher Zac Gallen (North Carolina) and outfielder Jake Fraley (LSU), who sported an impressive .372 batting average in his freshman year.
Schiffner said of the returning players,"There is nothing better than having players with experience in the Cape League and also experience of being in town. … We would like to get back into the playoffs after a year off, and having veteran players should help us a lot to achieve that."
Kelly Nicholson returns for his 11th season as the Orleans Firebirds' manager. "I'm really excited to see all the guys, watch them play this summer, and be in the town of Orleans," Nicholson said.
Nicholson said the projected lineup includes two players expected to come to the Cape after their stint with Team USA: 2014 National Freshman of the Year and first baseman Zach Collins (Miami), and freshman All-America First Team member and outfielder Bryan Reynolds (Vanderbilt). Third baseman Bobby Dalbec (Arizona), who competed in the Home Run Hitting Contest last summer during the Cape League All-Star weekend, will be back with Orleans.
Defending champion Yarmouth-Dennis enters the 2015 season with a talented crop of "the best college baseball players from around the country," according to Red Sox president and general manager Steve Faucher.
Michael Donadio of St. John's is Y-D's only returning player from last summer's championship season. In 2014, Donadio earned accolades as a Collegiate Baseball Freshman All-American, second team ABCA All-Northeast Region honoree, first team All-Big East selection, and 2014 Big East Rookie of the Year. Donadio, a strong fielding outfielder, is known as a solid contact power hitter. He played just four games here last summer, and the Red Sox are looking forward to having him for a full season. Field manager Scott Pickler welcomes the challenge of new players.
With his nearly 40 years of coaching experience, Pickler is a master at getting players to work as a cohesive group and yielding an outstanding team each summer. Y-D finished the 2014 campaign only two games out of first place in the East Division before its successful title run.
"Red Wilson Field is the home of the Y-D Red Sox, so bring your lawn chair, relax, and watch the stars of tomorrow play a game of baseball," Faucher said to Cape League and Y-D fans alike. The Red Sox have yielded numerous MLB superstars such as Chris Sale (2009), David Robertson (2006), Gordon Beckham (2007), Buster Posey (2006-07), Joe Kelley (2008) and Joe Panik (2010), to name but a few.
Entering the 2015 season as the regular-season defending East Division champs with some of the league's best pitching statistics, strong batting and third highest attendance at games, the Harwich Mariners are back and ready to build on their prior campaign. Returning to the Mariners is Notre Dame second baseman Cavan Biggio, who was drafted by the Philadelphia Phillies in the 29th round of the 2013 MLB
First-Year Player Draft. Biggio, who was named the top prospect in the nation by Baseball America heading into the 2014 season, is an extremely talented player who has shown significant growth, said Harwich Mariners GM Ben Layton. Biggio is the son of Major League Baseball Hall of Fame inductee Craig Biggio (Y-D, 1986), who played with the Houston Astros from 1988-2007, finishing with 3,060 hits in his 20-year career.
Also returning to Harwich is first baseman Danny Zardon of LSU. Zardon is solid multi-position infielder from South Florida. He has soft hands, a great throwing arm, and is a tough out at the plate. His batting discipline has served him well. Last season, Zardon batted .305 (29-for-95) with five doubles and 12 RBIs for the Mariners. Alongside that returning duo, the Mariners welcome new players from UC Santa Barbara, Virginia Tech, University of Michigan and N.C. State.
"These 25 new men entering our team will bring new chemistry and cohesive qualities that will allow for us to succeed not only in our game, but in providing an All-American sense of community and the CCBL portrayal of how baseball truly is meant to be played for our audiences," Layton said.