League News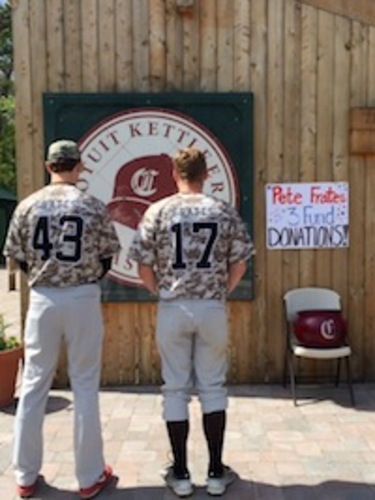 06/07/2015 2:04 PM
Article By:
Saturday's doubleheader between the Cotuit Kettleers and Lexington Blue Sox at Lowell Park went far beyond what appeared on the scoreboard.
Both exhibition games were being played to honor former Boston College captain and Blue Sox player Pete Frates, who was diagnosed with amyotrophic lateral sclerosis in 2012. Although Frates wasn't able to attend on a cool day at Lowell Park, kettles were passed around the stadium in search of donations in the fight against ALS. Even without a full roster, the Cotuit Kettleers got their bats swinging and had no trouble sweeping the Blue Sox ahead of the start of the 2015 Cape Cod Baseball League season on Tuesday.
Kettleers President Paul Logan described the doubleheader honoring Frates and the efforts as "the very least we could do to combat ALS (and) for Pete Frates to dedicate his terrible disease to this fundraising campaign We're thrilled to be a small part of it."
The Lexington Blue Sox, who have made the trip to Cotuit for a number of years now, donned camouflage jerseys in place of their regular blue jerseys during the first game. Uniting themselves not only in color, the players competed under one name on their backs, Frates.
Frates, the individual behind the Ice Bucket Challenge, is largely responsible for the challenge going viral and raising more than $100 million for ALS research and support. He made his final visit to Cotuit and Lowell Park with the Blue Sox in June 2011.
After Frates' initial diagnosis in 2012, BC head coach Mike Gambino tabbed Frates director of baseball operations.
"Anytime you can do anything for Pete, it's awesome," Kettleers pitcher and current BC player Justin Dunn said. "Pete is always around practice when he is feeling well … I told (him) today if he couldn't come down, I was going to do my best to make him proud on the mound."
While it's unclear whether this will become a Kettleers tradition, Cotuit field manager Mike Roberts said, "I hope it does. I think it would be great if we could honor him every year."