League News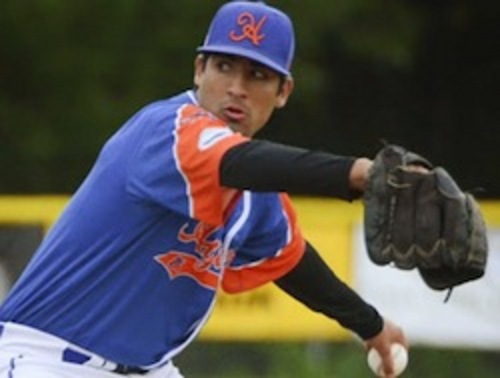 06/11/2015 4:57 AM
Article By: CCBL Public Relations Office
Ambidextrous pitcher Ryan Perez, co-MVP of last summer's Cape Cod Baseball League All-Star game, will get a chance to prove he's more than a curiosity now that the Cleveland Indians have selected him in the 12th round of Major League Baseball's First-Year Player Draft.
"It's the beginning of something new and very exciting in my life," said Perez, who was the 19th player taken in Round 12 and 364th chosen overall.
The Judson University pitcher had hoped to be picked Tuesday, the draft's second day when selections were made in Rounds 3-10. He waited patiently at home watching the draft without having his name called. Pre-draft talk from among scouts and other observers had suggested he might go in Rounds 6 or 7.
"There was definitely a little bit of doubt in my mind then," Perez said. "And in that situation you've just got to stay patient and positive and wait. When I found out, I was excited, happy, relieved … everything you could think of all at once."
The call came from Perez's Chicago-based adviser, Joe Gaza, and Perez quickly agreed to sign. Terms were not disclosed. Perez was told that he will be contacted in the next few days by the Indians and told when and where to report.
Being drafted by Cleveland surprised Perez.
"They'd been in contact with me and their area scout (Les Pajari) had seen me pitch a few times, so they were always in the picture," he said. "But they weren't one of the teams that had me work out for them."
The Chicago Cubs, St. Louis Cardinals, San Diego Padres and Kansas City Royals all watched Perez pitch in private workouts.
"As a pitcher, you can't go and throw every day for everyone, so you are selective," Perez said. "I had talked with my adviser to see who best to go to for this. Others wanted to work me out. I'm just pleased and excited the Indians are giving me this opportunity and were interested in me."
Perez wowed scouts last summer pitching for the Hyannis Harbor Hawks in the Cape League, and earned notoriety for being named co-MVP of the All-Star game after using both arms to strike out the side in the one inning he worked. The fact that the game was seen nationwide on Fox College Sports didn't hurt his cause either.
Perez had been viewed as a left-hander by some teams and as someone who can throw with both arms by others. He's unsure what Cleveland's plans are, but the Indians listed him as a left-handed pitcher when announcing his selection Wednesday.
Perez probably will start his professional career at either Low-A Lake County (Ohio) or the Tribe's short-season Class A affiliate, Mahoning Valley, located in Niles, Ohio.
Perez is the youngest of six children, and the entire family got together to celebrate Wednesday afternoon at a bar and grill owned and operated by Ryan's brother, Aaron.
"It was more a relief when he was drafted," said Ryan's father, Juan, "maybe more a relief than exciting. Tuesday was a roller coaster because he'd been projected to go higher, but then teams started taking seniors to save money. The names today just went flying off the board very fast. It was very intense."
Perez underwent Tommy John surgery on his right arm in the fall of 2011, but came back to top 90 mph with both arms. He went 12-3 with a 2.43 ERA and had 92 of his 111 strikeouts left-handed in 2014, but this season a triceps strain kept him from pitching much left-handed until the postseason. He threw just 27 1/3 innings and finished at 4-1 with a 4.61 ERA.
"I want to thank Judson and coach (Rich) Benjamin for giving me the opportunity I had," said Perez. "This is a once-in-a-lifetime chance."