League News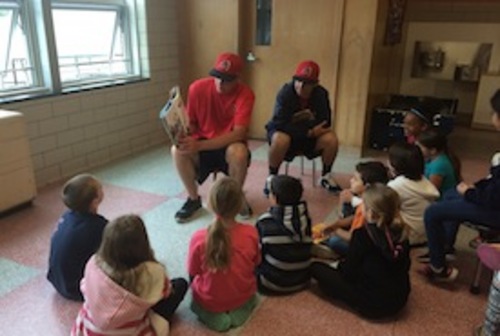 06/17/2015 6:46 PM
Article By: Tori Cotnoir
Remember the days of waiting for the school bus or "big yellow twinkie" – as some called it – to take you to elementary school?
On Monday, members of the Y-D Red Sox re-enacted this blast from the past and took their seats at tiny cafeteria tables to read to the students of Ezra H. Baker Innovative School in West Dennis.
Unsure of where to sit upon their arrival, players entered the cafeteria as if it were their first day of elementary school. The grinning youngsters and enthusiastic teachers at this school for students kindergarten through Grade 3 weren't going to let them feel uncomfortable.
As the baseball players took their seats, children eagerly approached them equipped with an assortment of baseballs, hats and even casts to be signed by. Without hesitation, the players and staff signed each and everything asked of them.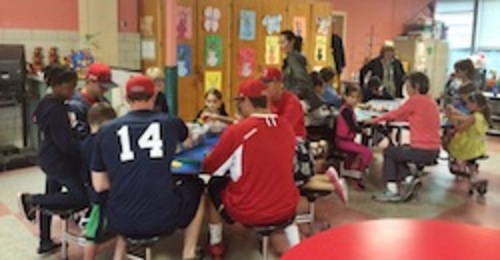 After reciting the Pledge of Allegiance with students, staff and the principal, Y-D members were treated to a feast with the students. The college players, averaging 6 feet or taller, grabbed their breakfast tray consisting of french toast and milk.
Following breakfast, players broke off into groups of two and read stories about Fenway Park, Jackie Robinson and the history of baseball to an enraptured audience. One player even read a book about the dangers of tobacco use.
The Y-D Red Sox, who are 3-6 through Wednesday's action, are led by Louie Payetta of Houston Baptist University, who sports a .333 batting average.