League News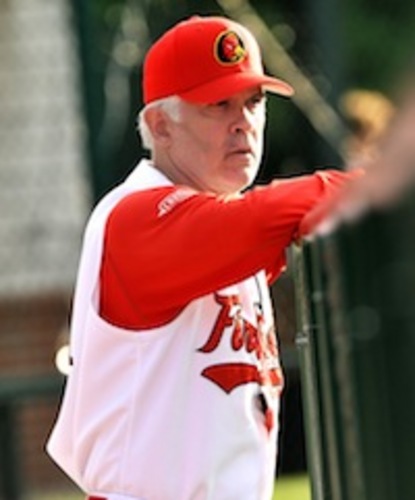 06/23/2015 6:33 PM
Article By:
At 10-3, the Orleans Firebirds hold the best record in the Cape Cod Baseball League thanks to solid play in all areas of the game.
Kelly Nicholson, a teacher at Loyola High School of Los Angeles, is in his 11th season as field manager of the 'Birds and notched his 250th career Cape League win with a 5-1 victory over Harwich this past Friday. But he was quick to give credit to his club for that accomplishment.
"That was a team effort, not just me," Nicholson said. "We win as a team and lose as a team."
Firebirds third baseman Bobby Dalbec leads the league in home runs (4) while outfielder Kyle Lewis is close behind (3) in second place. Orleans' pitching isn't too shabby either. Mitchell Jordan leads the league in two categories, with 17 strikeouts and a stingy 0.00 ERA.
"We have a lot of talent and we're playing well in all three phases: defensively, pitching and swinging the bats right now," Nicholson said.
Standouts Dalbec,
Bryson Brigman
,
Colby Woodmansee
and
Stephen Nogosek
are all playing for Team USA currently but are expected to return to the Orleans mid-July. They are proving Nicholson's words true
–
this team has an immense amount of talent.
Even with some of their best players gone, Nicholson likes to stay optimistic. "We like to focus on the guys that are here while they're here. The players on Team USA are really good players and they're there for a reason, but we can't control that so we don't worry about it. We just go out there and play ball every night."
When asked why he returns to Cape Cod each summer, Nicholson replied: "I like the challenge of putting a team together and competing at a high level. We have the best crop of baseball players out here and it's enjoyable for me to watch these kids play, on every team, each night. It's a unique experience unlike any other."
Last season, the Firebirds came up short in the playoffs against eventual champion Y-D, but this summer Nicholson's mentality remains the same.
"I'm serious when I say this," the skipper said. "We take everything one day at a time and see where we are at the end of the summer. Expectations are high for everyone, but we don't want to look past the game tomorrow or get too ahead of ourselves."
His plan seems to be working well for the Firebirds so far. If all goes well for Orleans, this team is poised to be a threat in the league and potentially go deep in the playoffs.