League News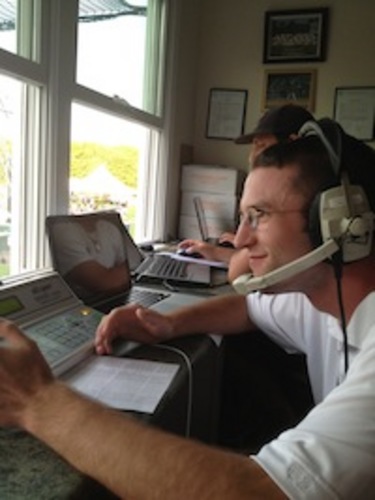 06/27/2015 2:46 PM
Article By: Tori Cotnoir
Yarmouthport native Ryan Gallant has been named Volunteer of the Week by the Y-D Red Sox.
Gallant, a longtime supporter of the team, is an intern and public address announcer for Y-D, but he does so much more. He also handles social media, new technology, broadcasting, public relations and website development, to name but a few of the many responsibilities he juggles.
"Ryan is an invaluable asset to the Y-D Red Sox," said Steve Faucher, Y-D president and general manager. "Aside from being the technical director, Ryan is always willing to help out in all departments. He truly enjoys what he does, and his knowledge of sports as well as his attention to detail in all aspects will open many doors to his future endeavors."
Gallant has been involved with the league since 2010 during his days at Cape Cod Regional Technical High School. He met Joe Rubin, who was Y-D's vice president at the time, at a Yarmouth Little League banquet and inquired about becoming involved with the team. Rubin suggested broadcasting to Gallant, and the rest is history.
This is a pivotal summer for Gallant, who will be a senior at University of Massachusetts-Amherst in the fall. Previous interns have gone on to big things, which serves as inspiration for Gallant as he embarks on the transition from volunteer and student to professional.
Gallant seems to have found his niche at Y-D's Red Wilson Field. When asked how to describe his experience volunteering for Y-D, Gallant recalled lyrics from "Mainstreet," a classic rock song by the legendary Bob Seger. "And sometimes even now, when I'm feeling lonely and beat, I drift back in time and I find my feet down on Mainstreet."
Much like the sentiment conveyed by Seger, Gallant says when he looks back at his time with the Y-D Red Sox, it will be filled with wonderful memories and unforgettable moments.