League News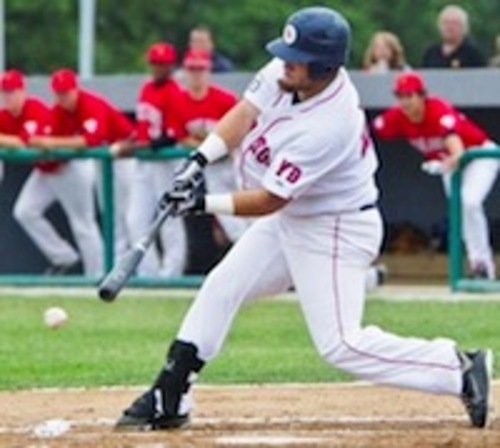 06/29/2015 8:01 AM
Article By: CCBL Public Relations Office
Baltimore's first-round draft pick, outfielder DJ Stewart (Y-D, 2013), agreed to terms with the Orioles on Sunday, signed an at-slot bonus contract for $2,064,500 and reported to Single-A Aberdeen (Md.) in the short-season New York Penn League, ready to start his play-for-pay career.
Stewart is the 10th to sign among the 14 Cape Cod Baseball League alumni selected June 8 in the first round of the 2015 MLB First-Year Player Draft.
The Florida State product was chosen with the No. 25 overall pick and is considered to be one of the best bats in this year's draft class, according to a tweet from Jim Callis of MLB.com.
Stewart slashed .318/.500/.593, with 15 homers in 64 games last season for the Seminoles. For his career, he hit .344 with 27 homers and 166 RBIs. As a sophomore, the 21-year-old was the Atlantic Coast Conference Player of the Year and an All-ACC First Team selection after leading the conference in batting average, slugging percentage and on-base percentage.
tewart was ranked No. 26 by Fangraphs' Kiley McDaniel, No. 30 by of Baseball America, No. 36 by Jonathan Mayo and Callis of MLB.com and No. 70 by Keith Law of ESPN.com.
Chosen earlier by the New York Yankees in the 28th round of the 2012 draft, Stewart has improved his stock tremendously over the past three years. In its scouting report, Baseball America pointed to Stewart's quick swing and plate discipline. Some scouts believe that with an adjustment to his stance he'll be able to hit for more power going forward.
Stewart joins an impressive list of now signed Cape League grads who were drafted in the first round: No. 6. LHP Tyler Jay (Y-D, 2014), $3,889,500, Minnesota; No. 9. OF Ian Happ (Harwich, 2013-15), $3 million, Chicago Cubs; No. 18. RHP Phil Bickford (Y-D, 2014), $2,333,800, San Francisco; No. 19. SS Kevin Newman (Falmouth, 2013-14), $2,175,000, Pittsburgh; No. 26. C Taylor Ward (Orleans, 2014), $1,670,000, Los Angeles Angels; No. 29. RHP Jon Harris (Harwich, 2014), $1,944,800, Toronto; No. 30. SS Kyle Holder (Cotuit, 2014), $1.8 million, New York Yankees; No. 31. 1B Chris Shaw (Chatham, 2014), $1.4 million, San Francisco; No. 34. OF Christin Stewart (Orleans, 2014), $1,795,100, Detroit.
Still unsigned:
No. 16. RHP James Kaprielian (Y-D, 2013), New York Yankees
No. 20. SS Richie Martin (Falmouth, 2013; Bourne, 2014), Oakland
No. 24. RHP Walker Buehler (Y-D, 2014), Los Angeles Dodgers
No. 35. RHP Kyle Funkhouser (Chatham, 2013), Los Angeles Angels
Stewart played at Y-D in 2013 as a freshman, slashing .270/.328/.443, with nine doubles, a triple, three homers and 24 RBIs. On the Red Sox roster, he was listed by his given name, Demetrius.
In an Instagram posting Sunday, Stewart thanked Florida State for giving him the opportunity to showcase his baseball talents there. "Today I signed my first professional contract to begin my career as a professional baseball player in the Baltimore Orioles organization. This wouldn't have been possible without the decision I made to sign (a letter of intent) to play baseball at the greatest university in the world … I will be forever grateful for all that Florida State University has given me."