League News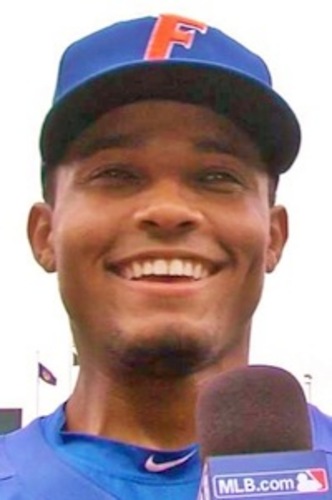 07/01/2015 1:10 PM
Article By: CCBL Public Relations Office
The Oakland Athletics may be struggling in the American League West, but they're having no trouble signing their top selections from last month's Major League Baseball First-Year Player Draft.
On Tuesday, the A's came to terms with their first-round pick, University of Florida shortstop Richie Martin, a two-year veteran of the Cape Cod Baseball League League (Falmouth, 2013; Bourne, 2014). Oakland now has all of its top 10 draft choices under contract.
When Martin entered the A's clubhouse at O.co Coliseum, he was surprised to find a locker with his name on it, but even more surprised at what was inside. A's pitcher Sean Doolittle, a University of Virginia alum and a fellow Cape League grad (Harwich, 2005), had given the young shortstop a UVA bat.
Just 10 days earlier, the Cavaliers had eliminated Martin's Gators from the College World Series. Virginia then went on to defeat defending champ Vanderbilt in the best-of-three CWS finals for the national collegiate title.
According to Matt Kawahara of the Sacramento Bee, Martin took Doolittle's prank in stride. "I was like, 'Dang, man, that's rude,' " Martin said, smiling. "First day I get here, you got to do that to me?"
Although contract terms were not announced, Jim Callis of MLB.com reported on Twitter that Martin had agreed to a bonus of $1.95 million, well below the $2,214,000 slot allotment for the No. 20 pick. With Martin now under contract, only three of the 14 former Cape League players drafted in the first round remain unsigned. All right-handed pitchers, they are UCLA's James Kaprielman (Y-D, 2014), New York Yankees, No 16; Vanderbilt's Walker Buehler ((Y-D, 2014), Los Angeles Dodgers, No. 24, and Louisville's Kyle Funkhouser (Chatham, 2013), Dodgers, No. 35.
Oakland scouts obviously liked what they saw last summer during their visits to the Cape, as four of the A's first five draft picks and five of their top 10 were members of Cape League teams. After taking Martin in the first round, they chose Alabama shortstop Mikey White (Brewster) in the second round, followed by North Carolina outfielder Skye Bolt (Harwich) and Illinois pitcher Kevin Duchene (Yarmouth-Dennis) in the fourth and fifth rounds, respectively. Georgetown lefty Nick Collins (Chatham) was Oakland's eighth round pick.
The budget-conscious A's shelled out only two bonuses in excess of $1 million – to Martin and to their third round selection, Georgia High School pitcher Dakota Chalmers, who agreed to a $1.2 million deal.
Martin arrived at the Coliseum's player entrance just before 3 p.m. Tuesday, dressed sharply in a gray suit and spit-shined black shoes, and carrying a pair of A's white cleats. He was accompanied by his parents, Richard and Deborah.
In the clubhouse, Martin got to meet several A's players, including Scott Kazmir and Ben Zobrist – both of whom, he said, he "grew up watching" in his hometown of Brandon, Fla. After changing into a green No. 12 jersey and white uniform pants, Martin spoke briefly with reporters, then took batting practice and fielded some ground balls.
Martin said he knew little about the Athletics before the draft, but he admitted he had watched the movie "Moneyball," in which A's general manager Billy Beane was portrayed by Brad Pitt. "The hair was spot-on," Martin observed after meeting Beane for the first time.
Martin also made appearances on A's radio and television and watched the A's lose 2-1 to the Colorado Rockies. His boyhood idol Zobrist scored the lone Oakland run.
On Wednesday, Martin was scheduled for a 6 a.m. flight to New England, near the area where he spent the last two summers enjoying the sun, sand and surf while honing his baseball skills on Cape Cod. This time, though, he'll be based a bit further north – in Burlington, Vt., playing for the Vermont Lake Monsters, Oakland's entry in the short-season Class A New York Penn League. He's expected to be in the lineup Thursday night when the Lake Monsters host the Tri-City ValleyCats (Troy, N.Y.) at the University of Vermont's Centennial Field.
Martin will be joining a team that includes eight of the A's top 10 picks. In addition to White, Bolt, Duchene and Collins, the Lake Monsters' roster includes sixth-round pick, pitcher Bowdien Derby; seventh-rounder, pitcher Kyle Freidrichs; ninth-rounder, lefty Jared Lyons, and 10th-round pick, outfielder Steven Pallares.
Cape League fans interested in watching their former local favorites in professional action may want to consider a trip to Lowell in late August. The Lake Monsters will be in town for a three-game series against the Spinners Aug. 24-26.
Lowell's roster of Boston Red Sox prospects also includes a sprinkling of former CCBL players, including outfielder Tate Matheny (Falmouth, 2014) and infielders Mitch Gunsolus (Chatham, 2013-14) and Tucker Tubbs (Brewster, 2013).